Nicola Sturgeon's phoney quest for independence
The SNP cares nothing for democracy and popular sovereignty.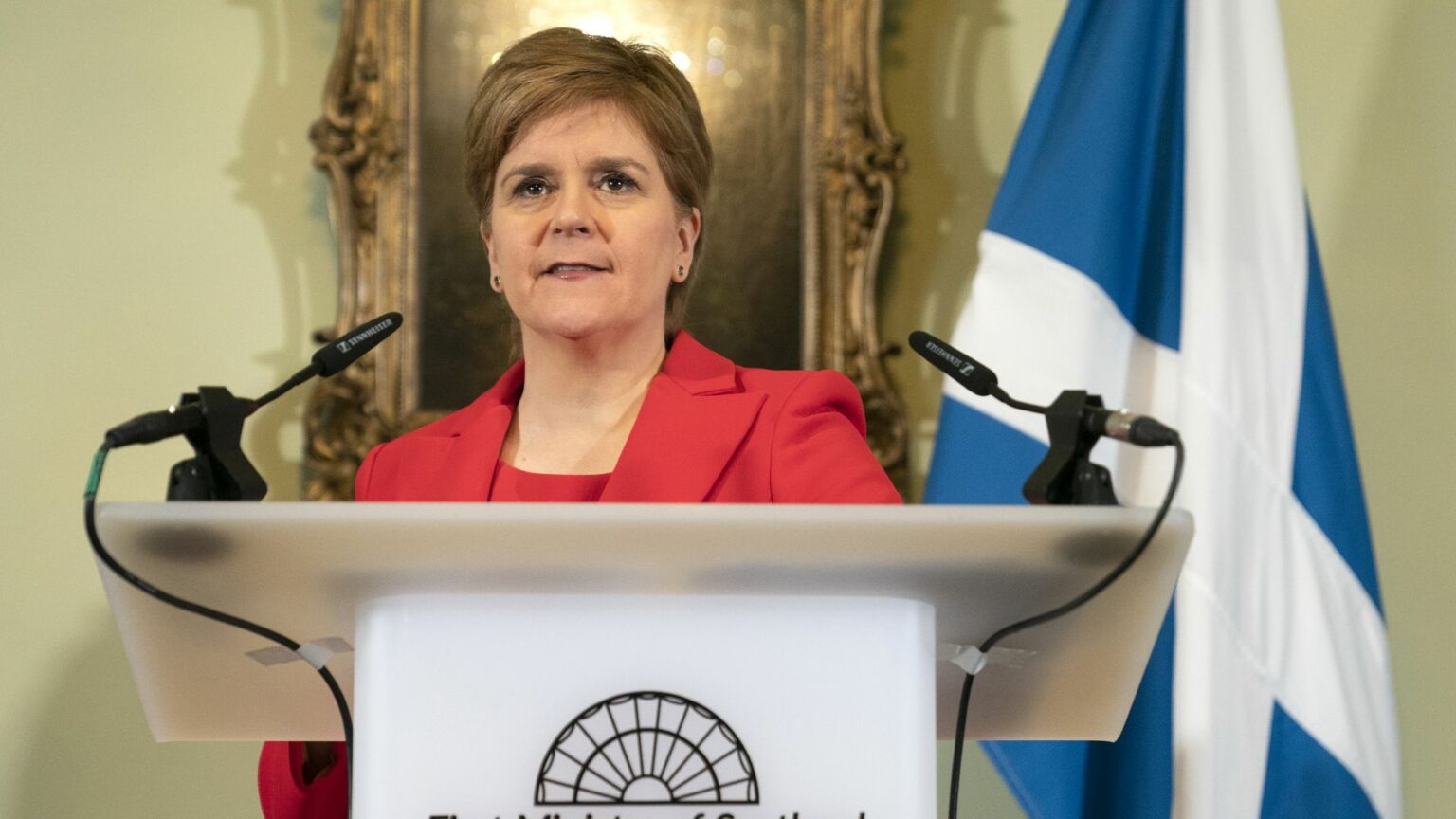 Nicola Sturgeon still sounded confident that Scotland would soon be 'free' as she delivered her resignation speech on Wednesday morning. 'Winning independence is the cause I have dedicated a lifetime to', she said. 'I intend to be there as it is won, every step of the way.'
Sturgeon has always given a good press conference. But a poised performance doesn't change the fact that independence looks as far off now as it did back in 2014, when 55 per cent of Scots voted to remain part of the Union in what was meant to be 'a once in a lifetime' referendum.
There are many reasons for the parlous state of the independence cause. There is currently no clear route to a second referendum. In November, the UK Supreme Court ruled the Scottish parliament's attempts to unilaterally call one unconstitutional. And Sturgeon's subsequent plan to turn the next General Election into a de facto referendum is not even popular within the SNP, let alone among the Scottish public. Just 21 per cent of the public back it.
Moreover, public support for the SNP's vision of an independent Scotland is flagging. The uplift in support for independence enjoyed by Sturgeon after Brexit and during the early phases of the pandemic has long since ebbed. A Lord Ashcroft poll this month shows a 12-point margin in favour of staying in the UK.
But there is another, more profound problem for the SNP. A problem that Sturgeon's leadership has only exacerbated. And that is the sheer hollowness of the SNP's vision of independence.
After all, what is driving it? It's certainly not any idea of national sovereignty or self-governance. If it was, the SNP would not be explicitly committed to Scotland leaving the UK only to subsume itself within the far larger and utterly anti-democratic EU. Membership of the EU would cost Scotland any national sovereignty it would gain from exiting the UK. It would also make a mockery of the SNP claim that it wants economic control so as to resist, as Sturgeon would often put it, Tory austerity measures. After all, not only would EU membership entail entry into the Eurozone and a loss of monetary control, the EU is also a long-standing champion of severe austerity measures that would make any Tory chancellor blush. Just ask Greece.
The SNP's case for independence has nothing to do with popular sovereignty, either. Indeed, since the SNP assumed power in 2011, it has displayed a patrician-like scorn for the populace. It has subjected Scots to sin taxes on booze, nudges on food, endless lectures about their lifestyles, and increasingly brazen attacks on their freedom of speech. It clearly doesn't trust them to make basic choices about their own lives, let alone trust them to help govern an independent nation.
That's why you won't find any mention of the democratic possibilities of nationhood in the SNP's manifestos. Because the SNP doesn't really believe in national self-determination. It's anathema to it now. Sturgeon all but admitted as much in 2017, when she said she wished she could turn back the clock and remove the 'problematic' word 'national' from the SNP's name.
The SNP's case for independence is fuelled not by the democratic possibilities of nationhood, but by something else – by the grievances of identity politics. This was clear enough during the 2014 independence referendum. Back then, Alex Salmond, then SNP leader, wasn't demanding respect for Scotland's sovereign rights. He was demanding recognition for a people's identity as Scottish. And so Salmond and pals talked up Scotland's cultural identity. The kilt, the Battle of Bannockburn, Rabbie Burns, etc. What they wanted from 'independence' was not political, it was therapeutic – a legal recognition of Scotland's real, authentic self, supposedly long suppressed by the cultural tyranny of the English.
This case for independence lost out at the ballot box in 2014. But Salmond's successor, Sturgeon, didn't change tack. She doubled down on the identitarian thrust of the SNP's pitch. Indeed, if anything, she pursued this phoney independence cause with more antagonistic zeal than even the vain, urbane and now scandalised Salmond.
In Sturgeon's hands, Scottish independence became a culture-war project with a twist. The culture wars tend to play out as a conflict between the values of ruling cultural elites and those of broad swathes of the public. In Scotland, Sturgeon has marshalled that elitist disdain for the 'masses', rife throughout the SNP-dominated institutions of public and political life, and projected it 'down south', on to the English. The independence cause is now sustained as a kind of protracted culture war. The SNP wants recognition of Scotland's supposedly superior 'progressive' identity. And to do so it has to be freed from the supposedly 'backward' values and political culture of England.
The EU referendum result was used to fuel Sturgeon's culture-warring, allowing her to indulge Guardianista talking points about how Brexit has revived racism and licensed xenophobia in England. And while she has conjured up Brexiteer England as a regressive, crypto-Nazi dystopia, she has presented Scotland as a 'progressive, inclusive, outward-looking' utopia, as the SNP's 2021 manifesto had it.
But, as recent polling shows, this shallow, culture-warring case for independence is now running out of steam. Yes, the cause of independence has been severely damaged by the SNP's push for gender self-ID at the expense of women's rights. But the project was also always limited by its own parasitism. Demonising Westminster, England and Brexit voters as racist, xenophobic and so on is clearly no substitute for a positive vision of Scottish nationhood.
It seems a majority of Scots are now fully awake to the hollowness of the SNP's vision of independence. They are seeing Sturgeon's project for what it is – a shallow culture war masquerading as a bid for freedom.
Tim Black is a spiked columnist.
To enquire about republishing spiked's content, a right to reply or to request a correction, please contact the managing editor, Viv Regan.