Is it now 'far right' to be a feminist?
According to Hope Not Hate, standing up for women's rights makes you a dangerous extremist.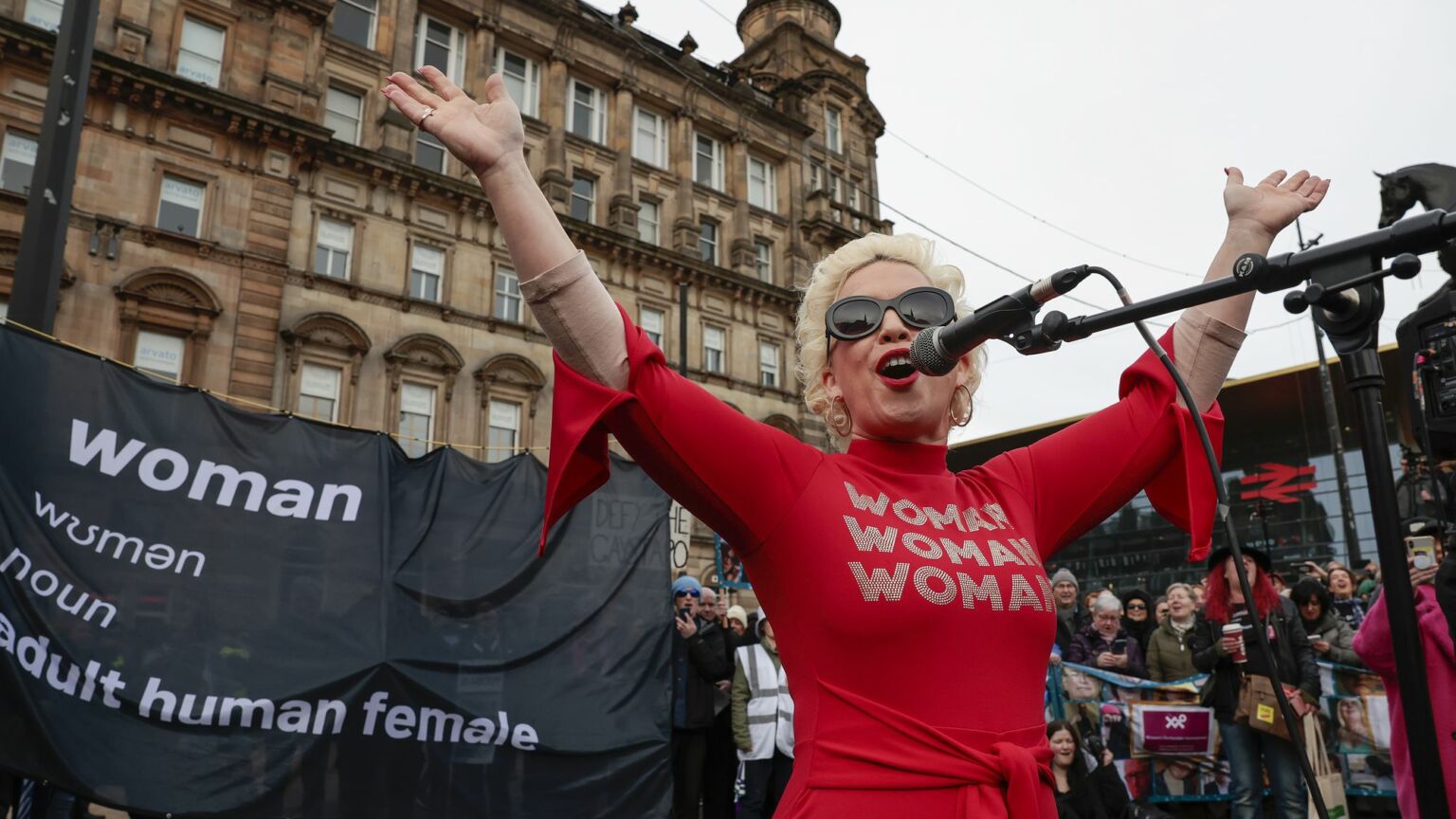 Say 'far-right extremism' and most people will think of fascism. Perhaps Hitler, Nazis and swastikas. Or closer to home, it's Enoch Powell and his infamous 'Rivers of Blood' speech. Or the National Front of the 1970s. Far less likely to spring to mind are feminists defending women's rights. Or concerned parents who object to the sexualisation of children and to libraries hosting drag queens.
Incredibly, both of these groups feature in a new report from campaign group Hope Not Hate. State of Hate 2023: Rhetoric, Racism and Resentment is promoted as 'the most comprehensive and analytical guide to the state of far-right extremism in Britain today'. Comprehensive is one word for it. The report details everything and everyone the report's authors dislike, from GB News presenters to gender-critical feminist Kellie-Jay Keen (aka Posie Parker). This is less a piece of research and more a very long temper tantrum.
Hope Not Hate highlights protests against Drag Queen Story Hour events as an example of 'far-right agitation'. The report disingenuously describes these drag events as simply 'storytelling sessions for children at public libraries'. It then labels as problematic those who ask why men with fake boobs and fishnet stockings are so keen to read to young children. 'The far right sees trans rights as a fundamental challenge to their belief in traditional gender roles and family structures', Hope Not Hate tells us. It's never spelled out quite what is far right about not wanting to sexualise children or defending traditional family structures. If you cry 'far right', no further explanation is needed, it seems.
Hope Not Hate claims that anti-trans rhetoric is becoming 'increasingly vocal and aggressive among the far right'. And, of course, what it describes as 'anti-trans rhetoric' can be anything from misgendering someone to defending women's sex-based rights. This is where Kellie-Jay Keen gets a mention, as an 'anti-trans activist' who has 'increasingly found support from and an overlap in views with the far right'. Her iconic 'woman: adult human female' posters and Let Women Speak events have long attracted opprobrium from trans activists. State of Hate confirms Keen's status as a 'leading voice in the anti-trans movement'.
When highlighting the dictionary definition of 'woman' is enough to have you associated with the 'far right' then we really are in dire straits. Feminism was one of the great progressive causes of the previous century. The old campaigns for the economic, social and political equality of the sexes are still rightly celebrated today. And yet those who want to defend sex-based rights, rights that feminists fought so hard for, are today dismissed as transphobic bigots.
Singling out Kellie-Jay Keen also puts a target on her back. We already know that Keen has been visited by the police and harassed by protesters as a result of her defence of women's rights. In calling attention to her yet again, Hope Not Hate is contributing to the unhinged demonisation of her.
Sadly, Hope Not Hate is not the only one smearing Keen as a far-right-adjacent activist. Some feminists – even gender-critical feminists – have been at it, too. As far back as 2018, one feminist organisation accused Keen of racism because she criticised the practice of young Muslim girls wearing the veil. One feminist journalist even derided Keen as a 'Poundshop Marine Le Pen' and described a rally she organised as being 'co-opted by nationalists, racists and woman haters'.
These snobby feminists have no idea how political campaigning works. If you organise a protest, you do not get to pick and choose who comes along, who films you speaking or who shares clips of you on social media. If you want to 'let women speak', you cannot hold a prior political purity test. Hope Not Hate similarly tries to damn Keen by drawing attention to fringe elements who have attended or live-streamed some of her rallies. These are such lazy, guilt-by-association tactics.
For all the ridiculous talk of Kellie-Jay Keen being allied in some way with the 'far right', it's the trans activists who are the real reactionaries here. They are the ones rolling back the gains of feminism, and they are the ones waging a war on women's rights.
A century ago, women were told that it was unfeminine to demand the right to vote or to attend university. Today's feminists are told by the likes of Hope Not Hate that it is right-wing not to welcome men in dresses into women's changing rooms, prisons and hospital wards. Unfeminine, unnatural, right-wing… the language changes but the sentiment remains the same. Women who demand sex-based rights should apparently just shut up and defer to men.
What becomes more apparent by the day is just how backward woke activism really is. Women must not be deterred from defending their rights by this sexist, politicised fear-mongering.
Joanna Williams is a spiked columnist and author of How Woke Won, which you can order here.
To enquire about republishing spiked's content, a right to reply or to request a correction, please contact the managing editor, Viv Regan.