Labour was wrong to celebrate Raab's ousting
Labour MP Graham Stringer argues the civil service has become far too powerful.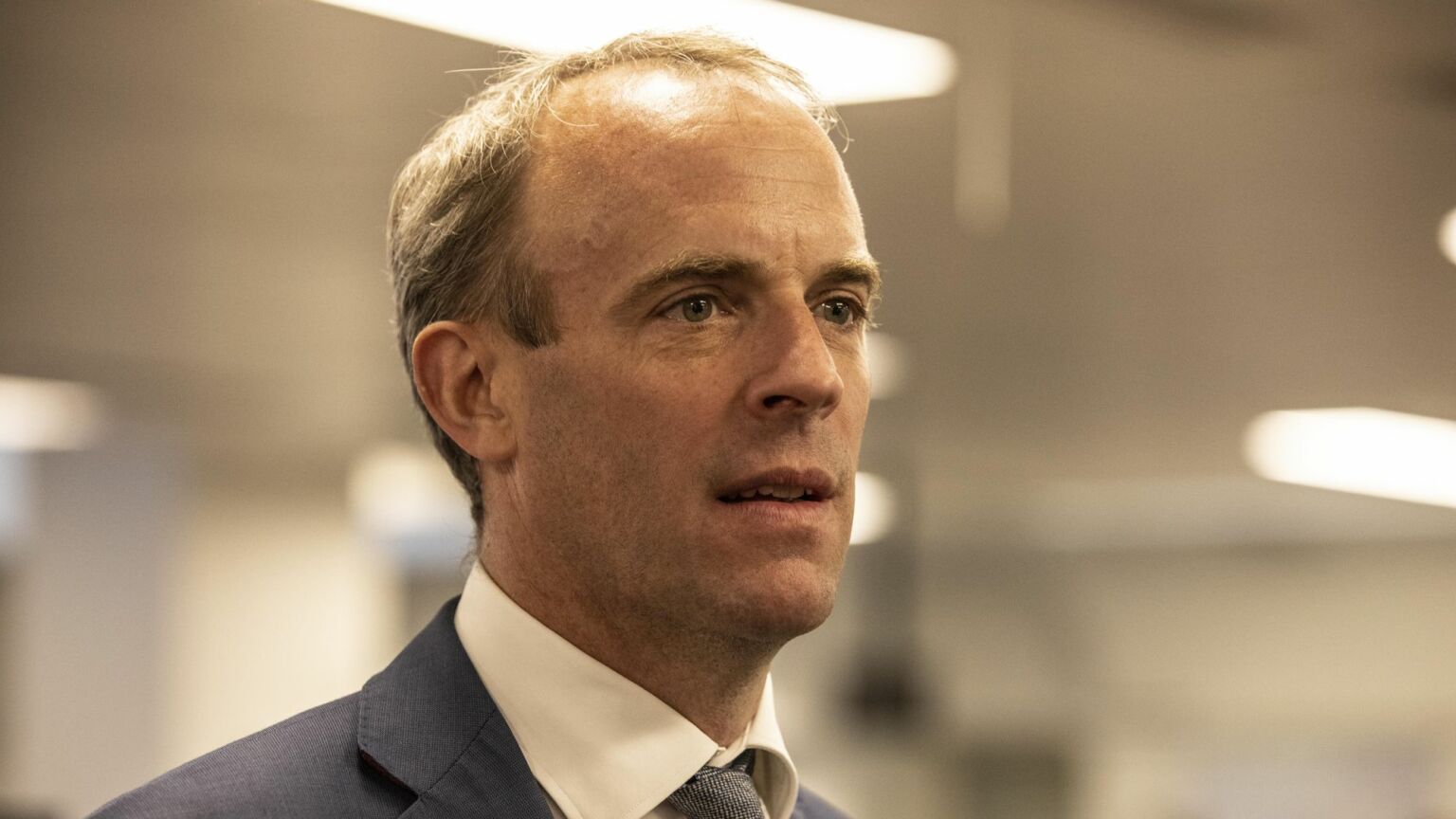 The resignation of cabinet minister Dominic Raab, following complaints of bullying from civil servants, brought large cheers from the Labour benches in the House of Commons. Labour is facing a Tory government with a majority of 80, so perhaps it is not surprising that the scalp of a senior minister was celebrated so loudly. But maybe my fellow Labour MPs should reflect for a moment on what this episode might mean for a future Labour government, especially if it is elected on a radical manifesto.
The right has long been debating the nature of the state and the civil service. But the left has barely discussed it in recent years. This needs to change, given that Labour could soon face the same problems the Tories are facing. After all, recent history has shown that the civil service pursues its own priorities often in opposition to official government policy. And this undermining of government policy has often been exacerbated by civil-service incompetence. This makes effective government nigh-on impossible, whichever party is in charge.
Moreover, it is difficult to hold civil servants to account. As a member of the Foreign Affairs Select Committee of the House of Commons, I supported the committee's decision to ask the Foreign Office's top civil servant, Sir Philip Barton (one of the main players in the Raab resignation), to 'consider his position' after the UK's shambolic evacuation from Afghanistan in August 2021. Like Raab, he had decided to continue his vacation while Afghans and others who had helped the British embassy were fearful of Taliban retribution. He ignored this call for his resignation and today continues in his job earning £185,000 per year (£20,000 more than the prime minister). We may never know the exact number of Afghans who have since died or been tortured, but who could have been rescued.
That someone like Barton remains in post despite performing poorly is far from unusual in the civil service. Incompetence on the part of officials rarely has any consequences.
Take Covid-19 and Brexit, both of which have posed significant challenges to the UK. The civil service's response to the pandemic was slow, secretive and ineffective. If it hadn't been for businesswoman Kate Bingham running the vaccines task force, the UK would likely have been one of the last countries to be vaccinated, not the first.
Civil servants have been just as ineffective in their handling of Brexit. Under its Remain-supporting head, the late Jeremy Heywood, the civil service failed to adequately prepare for a possible Leave vote in 2016. This was the equivalent of only preparing plans for the implementation of a Conservative manifesto during a General Election.
Some of the giants of Labour's history would be shocked at Labour's lack of scepticism towards the civil service. A cursory glance at the diaries of Barbara Castle and Tony Benn shows that they saw the civil service as a barrier to progress. And they were far from alone.
Since 1854, the civil service has recruited on merit and has been organised to be politically neutral. However, it is rarely neutral in practice. And perhaps it never can be. To get around this problem, in many countries, senior civil servants are normally of the same political colours as the elected government.
While the UK civil service does not have a party-political affiliation, it does have its own policy preferences. So the Treasury will tend to put forward market-based solutions, usually involving privatisation, to economic or financial problems. The Foreign Office has historically pursued further integration into the European Union. And across the civil service there is almost universally a bias towards London and against the regions.
Benn and Castle found life difficult as cabinet ministers in the 1960s and 1970s. They would find life even more difficult now, especially following the Raab decision.
I have no time for Raab, whose policies former Labour prime minister Gordon Brown once described as 'evil'. But if a Labour minister had been similarly defenestrated at the hands of civil servants claiming to have been bullied, I think the Labour Party would be incandescent. In fact, having mentioned Gordon Brown, it's worth remembering that he was notorious for hurling mobile phones across the room in No10. Should he have been sacked for 'bullying' staff, too?
The Raab resignation captures well the transfer of power from ministers to unelected officials. This is against the interests of all political parties. If future Labour ministers are to implement the will of the people expressed at a General Election, they will need more power not less. Or else they, too, could face delaying tactics and obstruction from the civil service, with little to no way of overcoming it.
Make no mistake: a Labour government would face resistance from the civil service. Does anybody in the regions really believe Labour's policies to decentralise government will not be sabotaged? All members of the shadow cabinet should be obliged to watch Yes Minister and Yes, Prime Minister. And they should view them as documentaries, not sitcoms.
The UK civil service is often compared to a Rolls-Royce. At the moment, it is more like an East German Trabant. We need a radical reform of the civil service to enable ministers to really take control.
Graham Stringer is the Labour MP for Blackley and Broughton.
To enquire about republishing spiked's content, a right to reply or to request a correction, please contact the managing editor, Viv Regan.