'They want to use violence to silence'
Billboard Chris on the intolerance of the trans movement.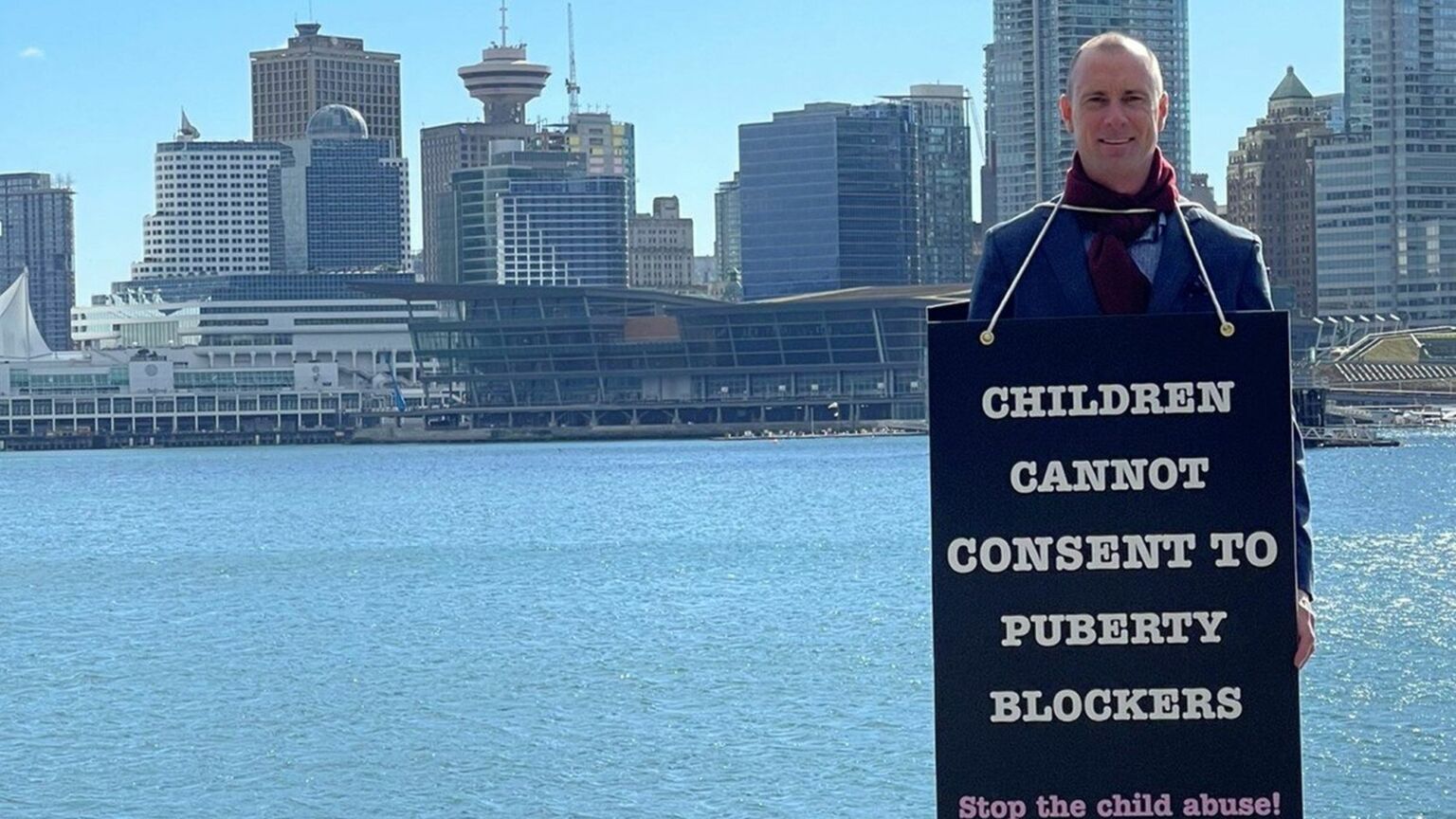 The fightback against trans extremism is well and truly underway. Across the Western world, activists, campaigns and organisations have sprung up to combat the threat posed by gender ideology to women's spaces, gay rights and children's welfare. Enter Billboard Chris (aka Chris Elston), a Canadian father of two who was inspired by gender-critical campaigner Posie Parker to take his concerns about the transitioning of children to the streets. His campaign is simple but impactful. Since 2020 he has been touring North America, wearing a sandwich board in public places that says 'Children cannot consent to puberty blockers'. He wants to combat the trans cult one conversation at a time. But as he told us on the spiked podcast this week, during his whistle-stop tour of the British Isles, trans activists constantly try to shut down those conversations with abuse and even violence. Here's an edited extract from our interview with him. You can watch the full thing here.
spiked: Could you tell us a little bit about your campaign and why you started it?
Billboard Chris: For two years and eight months now, I've been on a mission to create awareness about what I consider to be the biggest child-abuse scandal in modern history. I go outside – and I'm sure I look ridiculous – but I wear signs. I'm like a human sandwich board. The side on my front usually says 'Children cannot consent to puberty blockers'. And the one on my back is a little more playful. It's my definition of a dad, which is 'A human male who protects his kids from gender ideology'.
I go outside and have conversations with people. I go to busy downtown centres and university campuses. I'm just trying to raise awareness about why no child is born in the wrong body.
spiked: What made you feel that you had to go out on to the streets?
Chris: A secondary part of my campaign is about freedom of speech. People are afraid to talk about this issue. People are getting fired from their jobs. They could even lose their children. I've been arrested twice. I know a father in Canada who was sent to jail for six months for speaking out against the transition of his own daughter.
I felt I had to get out into the real world and out of our echo chambers. We need to talk face-to-face with people. We might think we're getting things done when we talk about this on social media, but we're just reaching the same people over and over. We need to reach people who would never hear about this otherwise.
spiked: A lot of the opposition to the trans movement focusses on how it harms women. Why do you think it's so important to tackle gender ideology where children are concerned?
Chris: What's happening with women is terrible. But we have hundreds of thousands of children who have been led to believe they're born in the wrong body. They are told that they need to block their physical development, take hormones and even have surgeries. This is causing irreversible harm. There's nothing more important than our kids.
This issue captures everybody. It captures people of all faiths, male or female – it doesn't matter. When parents learn what's going on and how their kids are being indoctrinated, it lights a fire inside of them. And when parents start to understand this, they will never unlearn it. They'll never stop talking about it. I know we're going to end this child abuse one of these days. It's just a question of how many kids are harmed before we do.
spiked: What do you say to the people who argue that the so-called experts encouraging kids to transition know better than their parents?
Chris: These people aren't experts, they are ideologues. The actual experts are people like Dr Hilary Cass, who did a review of the Tavistock clinic and found that it was not safe to continue as it was. We had activist organisations taking over the directions for medical professionals. You had Mermaids in the UK pressuring doctors to let kids transition.
The majority of these kids have some kind of mental-health comorbidity going on. Thirty-five per cent of children at the Tavistock displayed mild to severe traits of autism. Many of these kids have suffered abuse or trauma. A lot of them have eating disorders. These are children in distress. We shouldn't just be treating them as though gender is the underlying cause of all of their problems.
In places like the UK, Norway, Sweden and Finland, medical bodies have conducted systematic reviews and found there is no evidence to support that transitioning children helps them. It's not improving their mental health. We know from all of the academic studies into gender dysphoria that a lot of these kids simply grow up to be gay. Now we're sterilising gay and autistic kids. This is totally nuts.
spiked: Presumably people's reactions to your message are not always positive?
Chris: I've had my arm broken by Antifa in Montreal. I've been assaulted probably 40 or 50 times now, if you include people spitting at me. I've been mobbed by 200 university students. All sorts of crazy things happen when you're out on the street.
These people want to use violence to silence. The one thing that trans activists can't endure is a conversation. They'll try anything to stop it. I've had university students come out of their dorm rooms and hold up their bed sheets around me so that people can't see me. They play music, they blow whistles, whatever they can to drown me out. They will stand six inches in front of me while I'm having a conversation to stop me from talking to someone. They can't stomach that we're having a calm, rational conversation. And why can't we talk about things that are causing irreversible harm to kids? We should be able to talk about this.
spiked: Do you think gender ideology can be beaten?
Chris: Absolutely. We have the truth on our side. The trans lobby has nothing but lies. It has spent millions pushing this ideology into society, but the truth spreads for free. So I'm just going to keep spreading it.
Billboard Chris (aka Chris Elston) was speaking to Fraser Myers. You can listen to their full conversation on this week's spiked podcast.
To enquire about republishing spiked's content, a right to reply or to request a correction, please contact the managing editor, Viv Regan.