Are we stalking Phillip Schofield, or is he stalking us?
Schofield's very public meltdown feels like the nadir of therapy culture.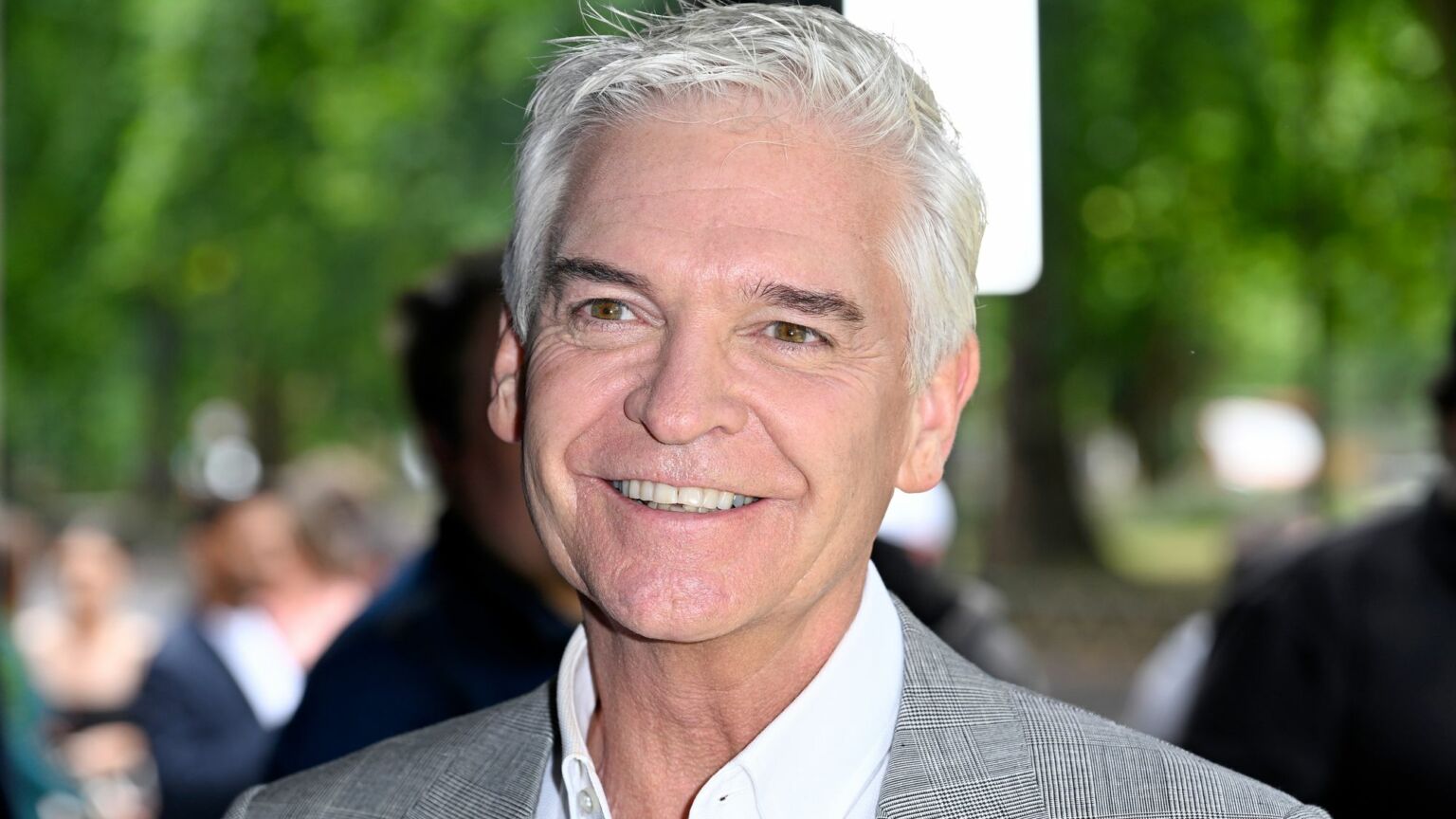 When is Phillip Schofield going to leave us alone? There's no escape from him. Open a newspaper and there he is, vaping, fidgeting, telling us he can't sleep, he can't eat. Switch on the BBC and you'll see him holding back the tears as he wonders out loud if people want him dead. (No one wants you dead, Phil.) Browse the internet and you'll see pics of him comforting his distraught-looking mother 'on a bench overlooking the sea'. They're the most questionable pap photos I've seen since AOC blubbed at a migrant shelter in Texas wearing a crisp white suit.
Schofield and his allies claim he is being hounded by a deranged, obsessed public. To me, it feels like it's the other way around. I feel trapped in a Kafkaesque prison of Phillip Schofield's neuroses. Everywhere I turn I find myself blocked by the latest psychosocial drama from the Schofe camp. 'You've come to the BBC website to read the news? Okay, but first you have to watch Phillip Schofield have a therapy session with Amol Rajan…' Make it stop! Can you take out a restraining order on a celeb you've never met?
Some are now bashing the tabloids and, of course, the plebs for their unhealthy interest in Schofield's private life. So far as we know, all he did was have a fling with a young man who was over the age of consent and then fib about it at work. He's hardly the Marquis de Sade. They're not wrong. I've always believed that what people do in their private life is their business, not ours. And yet this story's different, for one simple reason: Schofield dragged us, all of us, largely against our will, certainly against mine, into his private life. He made us spectators to his sexuality, his emotions, and now his post-This Morning meltdown. Those saying 'Respect Phillip Schofield's private life!' are blind to the most striking and grim part of this tale – Phillip Schofield unburdened himself of a private life long ago.
People like to say that everything they know about the Kardashians they learned against their will. I feel the same about Schofe. What am I doing in a daytime TV presenter's inner life? How did I get here? I know more about Schofield's emotional troubles than I do about some of my own friends'. It's no good saying, 'Just ignore it'. What are we meant to do – stop buying the papers, throw away our phones, leave the country? Even that doesn't help. I've just come back from the remote West of Ireland where I turned on RTÉ one evening only to hear the host of a current-affairs show say: 'And now the latest in the Phillip Schofield saga…'
Celebrities complain about being stalked by the public, but sometimes it feels like they're stalking us. Harry and Meghan accuse the tabloid-reading throng of invading their private lives and then they invite Netflix cameras into their home to film them having an emotional wobble. Harry offered up his entire life in book form – the time he lost his virginity in a field; the time he rubbed ointment on his knob and the smell reminded him of his mum; the time William pushed him on to the dog's bowl. And that, too, was everywhere. In every paper, on every news show. Only the minds of Tibetan monks remain unsullied by visions of Prince Harry's perfumed member.
Schofield's invitation to the masses to be participants in his private life stretches back to his bizarre coming out in 2020. It was on the This Morning couch, alongside his 'bestie' Holly Willoughby, that he emerged from the closet. What followed was surreal – a national and virtually mandatory Schofield love-fest. Every newspaper and celebrity and influencer gushed over ''brave' Phillip for 'courageously' coming out. I'm old enough to remember when you'd have to go to war or rescue children from a fire to be called courageous – now you just need to say 'I'm gay!' on a settee.
It would have been a daring soul who said during that beatification of St Phillip of the Sofa: 'What about his wife of 27 years?' Or, 'What's brave about being gay in showbiz?' Our only role, as NPCs (non-player characters) in Phillip Schofield's life, was to applaud and emote like North Koreans when Kim Jong-un drives by. I am not convinced that homophobia lurks behind the agitation some now feel with Schofield, following speculation that his coming out was a cover for the fact that he'd been less than honest about his young boyfriend. I think folk are just ticked off that the person whose private life they felt compelled to celebrate was perhaps not the stand-up guy they were told he was. When the elites canonise celebs as virtuous icons whose lives contain lessons for us all, they can't feign surprise when the little people engage in a little iconoclasm, when we question the supposed saintliness of their latest moral compass made flesh. Invent gods and you invite blasphemy.
We need to think about what we lose when we hollow out our private lives. This doesn't just go for the Schofields and Harrys of the world, but for all of us. In the therapeutic era, everyone feels compelled to offer up their inner lives for public consumption. To tweet their sorrows, advertise their mental frailties, make a public record, via social media, of their every meal, every date, every thought. For heaven's sake even Schofield's poor mum is wheeled out. An old lady looking sad – roll up, roll up! There's a serious danger in this willing decimation of the sanctity of the inner life. When everything is made public, it becomes fake, a performance, something we do for the watching eyes of others rather than to fortify our emotional selves or strengthen our relationships with loved ones. We become self-conscious players in a kind of Truman Show, rather than self-confident citizens who understand that maintaining the border between private life and public life is essential to the health of both.
And still they are trying to confine us to the emotional cell of the Schofield affair. 'Firstly, are you okay?', said Holly Willoughby this week in her bizarre to-camera comment upon her return to the This Morning couch. We're fine, Holly. Leave us alone.
To enquire about republishing spiked's content, a right to reply or to request a correction, please contact the managing editor, Viv Regan.