Can we finally tell the truth about lockdown?
This inhuman experiment must never be repeated.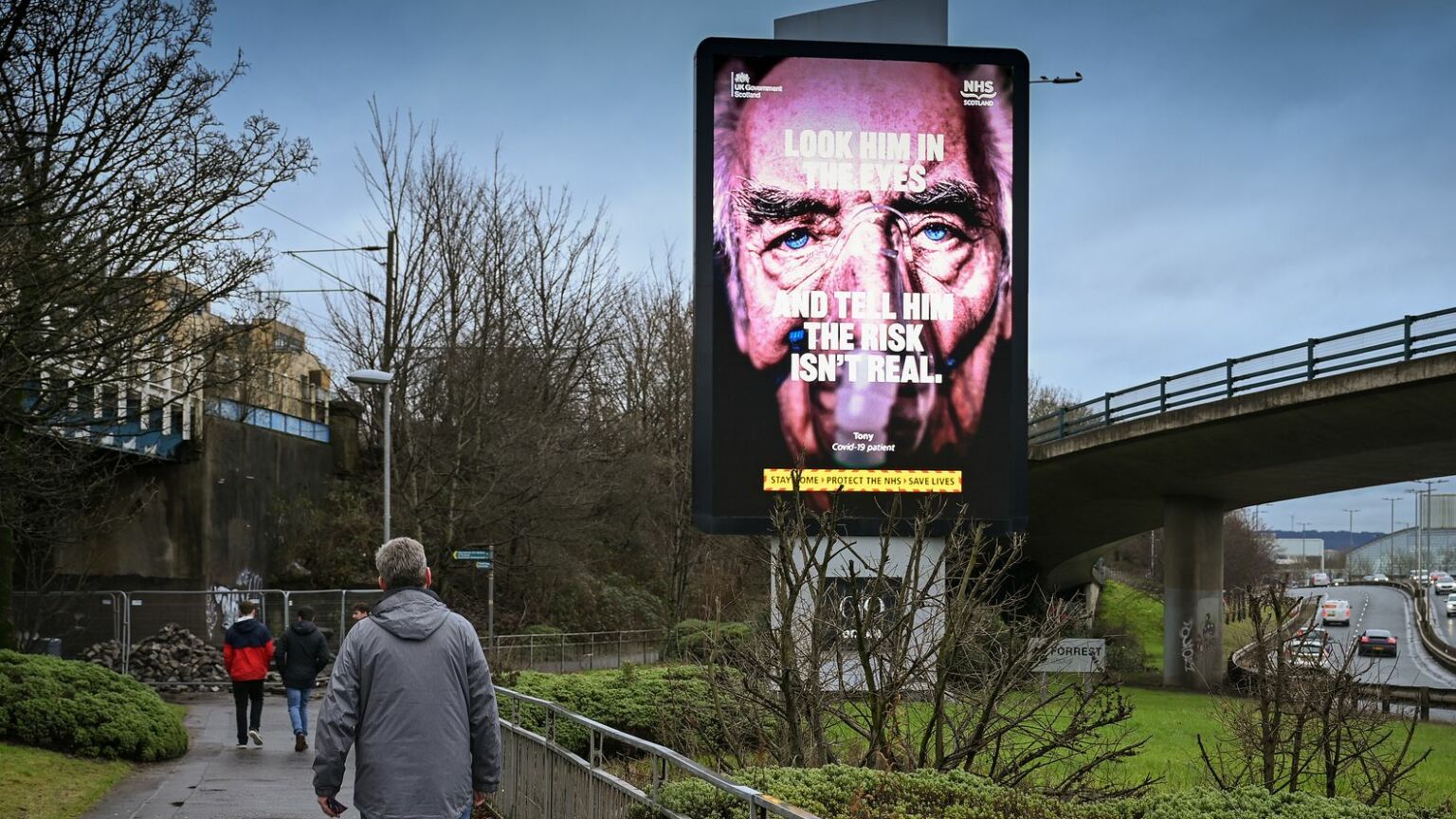 Can we please, finally, have a proper debate about the rights and wrongs of lockdown?
Ever since March 2020, when then UK prime minister Boris Johnson ordered the nation to 'stay at home', only one view on lockdown has really been permissible. The conventional, 'expert' take had it that the stricter the restrictions, the more lives would be saved. More freedom means more death, we were told. Any concerns about the cost of lockdown – whether to our liberties, health, education or the economy – were apparently not worth contemplating. Worse still, some of those who voiced scepticism of the lockdown policy were monitored by the state and censored on social media. Lockdown, after all, was said to be backed by 'The Science'.
There have always been good reasons to question this consensus. A new study published this week by the Institute of Economic Affairs (IEA) adds yet more weight to the case against lockdown. Researchers from John Hopkins University in the US and Lund University in Sweden examined over 20,000 studies on the efficacy of various Covid restrictions. They calculated that the number of lives saved by the UK's first national lockdown was just 1,700 – far fewer than the number of lives that would be lost to a typical flu season. This leads them to conclude that the benefits of lockdown were 'a drop in a bucket compared to the staggering collateral costs'. As one of the researchers put it: 'Most likely, lockdowns represent the biggest policy mistake of modern times.'
The study is not without its critics. Its methodology has already come under fire. Of course, any study looking back on lockdown is bound to have limitations. The pandemic was not a clean, scientific experiment, but a real-world emergency. Because most governments across the developed world all pursued roughly the same package of measures – from lockdowns and social distancing to mask mandates and school closures – it can be hard to isolate the effects of any one policy. Nor was every country equally vulnerable to Covid – just think of the huge variations in pandemic preparedness, population density, demographics, healthcare capacity and (from 2021 onwards) vaccination rates. Try as any scientist might, these are difficult variables to account for with even the most sophisticated statistical tools.
Nevertheless, the study's conclusions on lockdown do at least chime with the emerging evidence from excess deaths. Excess deaths are calculated by taking the total number of deaths during the pandemic and subtracting the average number of deaths observed during the years before the pandemic. The advantage of looking at excess deaths is that this not only avoids any issues with governments undercounting or overcounting Covid deaths, but it also includes those deaths caused indirectly by the pandemic and by our policy response.
There have been a number of different attempts to estimate excess deaths during the pandemic period, but whatever methodology is used, the data always show two significant things. Firstly, there is no obvious correlation between the length or stringency of a nation's lockdowns and the level of excess deaths. Secondly, Sweden, which infamously shunned hard lockdowns, has ended up with some of the lowest excess deaths from the pandemic in Europe. Whichever calculation of excess deaths you use, whether it's from the Lancet, The Economist, the Spectator or the World Health Organisation, it is hard to avoid the conclusion that lockdown brought little gain for a lot of pain.
Proponents of lockdown see things differently, of course. As early as June 2020, an Imperial College London study declared the UK's first national lockdown a stunning success, claiming that it had saved a whopping 470,000 lives. This figure relied on a model Imperial had produced, which predicted that 500,000 people would die from Covid unless severe restrictions were imposed. The actual number of deaths (around 30,000 at the time) was then subtracted from the projection. The trouble is, when applied to Sweden, the same modelling assumptions predicted 96,000 deaths by summer 2020. The actual death toll by that point, despite there being no lockdown in Sweden, was 6,000. Nevertheless, these highly questionable models were used to justify new lockdown measures throughout the pandemic. And they have since been held up as 'proof' that lockdowns saved countless lives.
To say that the Covid modelling exaggerated the dangers of keeping society open would be a major understatement. England was bounced into its second lockdown in November 2020 by models warning that 4,000 deaths per day were imminent. This prediction ought to have raised some eyebrows. Not least because, at the time, this was more than double the highest daily Covid death toll that had been seen anywhere in the world. Back then, the record, held by the US, was around 2,200 deaths per day. And the US has a population five times that of the UK. Still, we were told to listen to the models and ignore the real world.
Cast-iron proof that these models were broken didn't arrive until December 2021, when SAGE (the UK's Scientific Advisory Group for Emergencies) very nearly managed to cancel Christmas. The scientific advisers warned that, in a reasonable worst-case scenario, 6,000 people could die every day unless the government imposed a fourth national lockdown. And this, remember, was after the vaccine rollout. In the end, Boris Johnson ignored the scientific advice, and rightly so. Covid deaths over that winter peaked at just 200 per day. This was actually lower than the modelling's best-case scenario, of 600 deaths per day. The models reflected the bias of the scientists – namely, that lockdown was our most effective tool for managing the pandemic and it should be deployed unsparingly.
Meanwhile, outside of the computer models, beyond the scientists' spreadsheets, lockdowns were causing catastrophic damage to just about every area of political and social life.
At the beginning of the pandemic, democracy was effectively suspended. Parliament was declared 'non-essential' and was swiftly shut down. Even when it opened back up, then health secretary Matt Hancock was still able to rule by decree, issuing Covid-rule diktats on everything from casual sex to singing, without any need for parliamentary approval. Only a handful of Tory rebels bothered to question the restrictions, while the so-called opposition demanded even stricter rules.
Health also suffered enormously. The NHS was effectively turned into the National Covid Service. People suffering from other illnesses, including diseases as serious as cancer, were either too afraid to seek help or were turned away. Diagnoses were delayed, leading curable diseases to become unmanageable. The NHS waiting list is now at record levels, with 7.3million people in England waiting to start hospital treatment.
Today, our education system is haunted by more than 140,000 so-called ghost children – that is, children who, more or less, never returned to school after lockdown. The number of severely absent children climbed 134 per cent between autumn 2019 and 2023. With so many school days lost, primary-age children have regressed in basic skills like reading, writing and communication. For teenagers, two years' worth of exams were disrupted. And the gap between state- and private-school attainment has grown wider, with wealthier pupils finding it far easier to adapt to home learning than poorer pupils.
The economic fallout of lockdown is still with us today, too. The first national lockdown resulted in the largest fall in economic output since the Great Frost of 1709, when a cold winter destroyed all our crops and made the Thames freeze over. Although the pain of lockdown was largely soothed at the time by vast state spending, ultra-low interest rates and half-a-trillion pounds worth of quantitative easing, these measures have all ultimately fed into the current inflation crisis.
The greatest casualty of all, of course, was liberty. The liberal assumption that you can do as you please, unless the law says otherwise, was turned on its head. For months on end, we were banned from leaving the house without a state-sanctioned excuse. Police took it upon themselves to monitor the skies with drones, rifle through people's shopping baskets and break into their homes, often without any legal justification. Lockdown represented, in the words of one Court of Appeal judge, 'possibly the most restrictive regime on the public life of persons and businesses ever'.
The real scandal of lockdown is not just its ineffectiveness. It is not just the obvious and measurable harms it has caused to health, wealth and education. No, it is the fact that our freedoms were so quickly and comprehensively confiscated from us, and that our most precious liberties could be so easily overridden. We must never repeat this inhuman experiment.
To enquire about republishing spiked's content, a right to reply or to request a correction, please contact the managing editor, Viv Regan.