Everyone's as bonkers as the Unabomber now
Fuming against the Industrial Revolution is no longer the preserve of lunatics in wood cabins.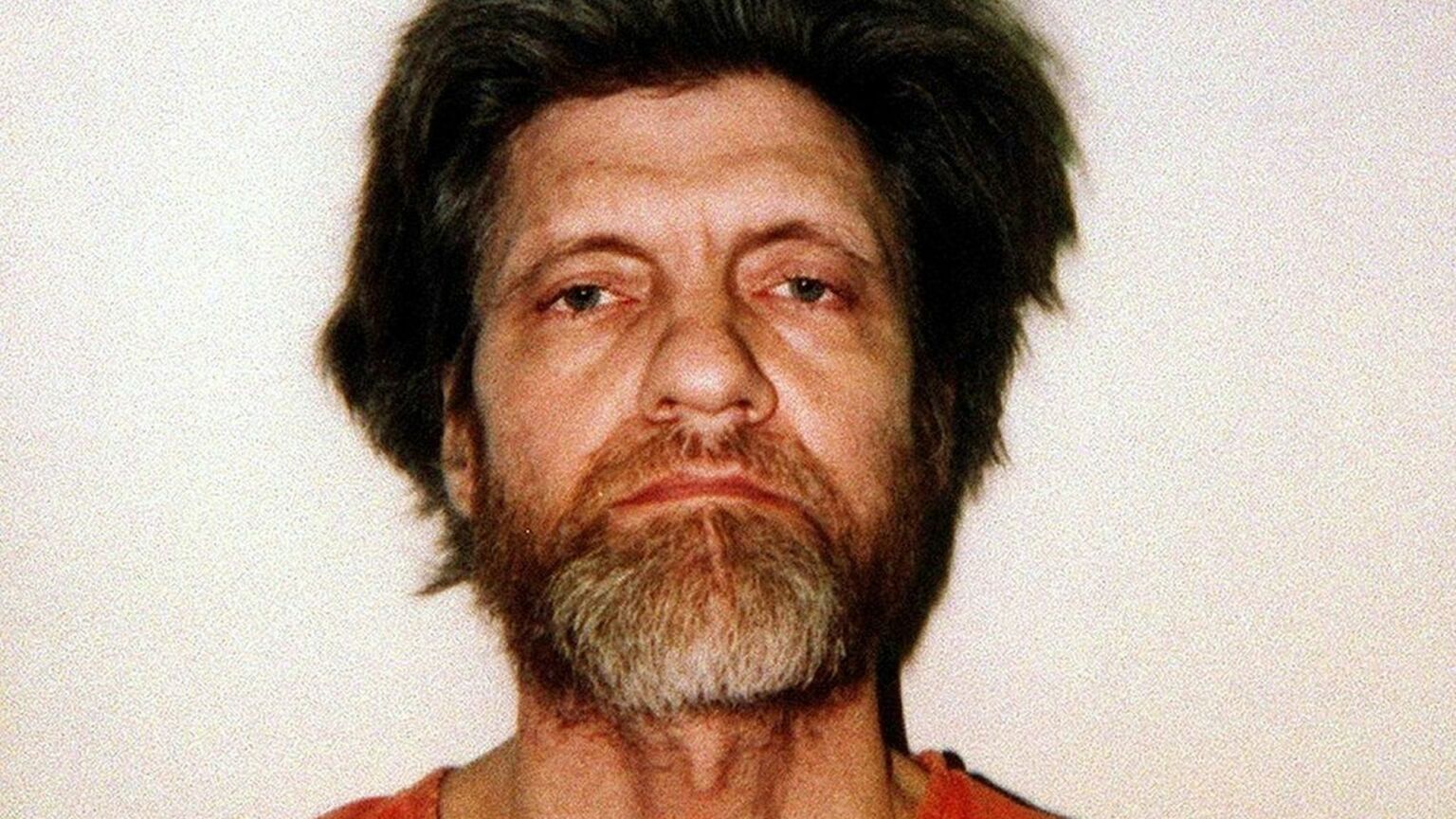 The Unabomber is dead, but his deranged ideology lives. Rereading Ted Kaczynski's cranky manifesto, the most unsettling thing about it is how mainstream it sounds. Oh for the early 1990s when conspiratorial screeds against the evils of the Industrial Revolution were the preserve of murderous hippies in wood cabins. Now they're 10 a penny. You can't open a newspaper, switch on a news show or even walk down the street – hello, Just Stop Oil – without encountering a noisy Kaczynski-style lamentation about how the Industrial Revolution ruined everything. Everyone's as batshit as the Unabomber now.
The death of Kaczynski – the terrorist 'who attacked modern life', as the New York Times coyly put it – has made headlines around the world. He was 81 and he was in the slammer, of course. His crimes are well known. Between 1978 and 1995 he posted or hand-delivered homemade bombs to people he considered enemies of the natural environment. University departments, airlines, computer shops, lobbyists for Big Timber – all were recipients of his murderous packages. Scores were injured, three killed. The FBI nicknamed him UNABOM, short for 'University and Airline Bomber'. The media dubbed him the Unabomber.
Things came to a head in 1995, when he wrote to the New York Times saying he would cut out the terror if one of the big papers published his anti-modern manifesto, 'Industrial Society and Its Future'. Then US attorney general Janet Reno thought it was a good idea. So, in September 1995, the Washington Post released his febrile anti-modern screed, all 35,000 words of it, as a special supplement. The killer turned columnist. His glee will have been shortlived, though: his brother recognised his florid, paranoid prose style and gave the FBI a call. The jig was up: Ted was located at his remote cabin in Montana where he'd been living the primitivist, survivalist life since 1971.
It is tempting to write Kaczynski off as just another hippy who went off the rails. Another Helter Skelter type: part Charlie Manson, part Weather Underground, all hysteria about The Man and his techno-stranglehold over the masses. There's just one problem with this dismissiveness: Kaczynski's hate for modernity is everywhere now. We're all in the Helter Skelter. Take the Washington Post. It had to be 'encouraged' by the attorney general to publish the Unabomber's tedious rant against industrial society. Now it publishes rants like that every day. 'World has nine years to avert catastrophic warming', 'Should you not have kids because of climate change?', 'Avoiding a climate-change apocalypse', etc etc. All of these are recent headlines from the Post. I'm convinced that had Kaczynski been born a few decades later, and had he trimmed the bits about violent revolution from his scribblings, the Post would happily have given him a column.
The famous opening line of Kaczynski's manifesto is: 'The Industrial Revolution and its consequences have been a disaster for the human race.' You see this ahistorical claim everywhere now. Everyone from Greta Thunberg to Boris Johnson believes the Industrial Revolution was a Fall of Man-level event that damned humankind to pollution and doom. From the Guardianista middle classes who complain about having to breathe in a chav's 4×4 fumes to those Extinction Rebellion hysterics who issue priestly decrees against the carbon-emitting masses, virtually every member of the chattering class agrees with the Kaczynski view that the Industrial Revolution was a planet-dooming moment.
No, there is no moral equivalence between those who moan about modernity – who are legion in the cultural elites – and those who post bombs to modernity's architects. This is not a 'Hitler was a vegetarian, too' argument. I'm just pointing out that views that were once fringe are now the stuff of elite chatter. Our obsession with economic growth is 'piling up environmental problems that our grandchildren will have to live with', said Kaczynski in his manifesto. Industrialisation has brought about a 'population explosion', he cried. Pox-like humanity has done 'tremendous damage to nature and it will take a very long time for the scars to heal', he said. We must 'turn economic growth into economic shrinkage', he insisted. I could go to any middle-class dinner party in London this evening and hear those views, word for word. Sure, there'd be no bombs; but every course would come with a serving of Kaczynski-like mourning over industrial society's horrible footprint on Mother Earth's face.
Today's fashionable disdain for the Industrial Revolution is such an irritating luxury belief. Oh I'm sorry that the liberation of humankind from grinding poverty birthed a world in which you spend your every waking hour doom-scrolling on your phone in a big city where you have no friends. But maybe that's your fault, not the fault of the Spinning Jenny? How awful that the industrious freeing of humanity from feudal oppression, bondage to the land and early death from entirely curable diseases means you sometimes cough as you walk through a park in a gleaming city whose conveniences and liberties our ancestors could only have dreamed of.
Isn't that what climate-change alarmism really represents? A political veneer for the narcissistic frustrations of the upper-middle classes who cannot believe they have to live with the tiny nuisances that spring from yesteryear's revolutionary liberation of the peasantry from slavery and ignorance? Industrial society and its remnants must be 'smashed beyond repair', said Kaczynski. 'The factories should be destroyed, technical books burned', he tyrannically insisted. All from the post-social 'comfort' of his Montana cabin. Now similar cries are made by the eco-aware elites, from the post-social comfort of their WFH apartments. Elitist contempt for progress and its disrupting consequences is the glue that binds both that deceased terrorist and the non-violent purveyors of anti-modern opinion in the 21st-century media.
It isn't only supposed leftists in the eco-elites who sound eerily similar to Kaczynski. So do sections of the infantile right. Some in the virtual anti-woke set openly celebrate the Unabomber, because his manifesto contained criticisms of the left and its authoritarian streak. That these criticisms were pedestrian, unoriginal and ripped off from the likes of Orwell and Lasch does not bother right-wingers, who now wonder out loud if Kaczynski 'had a point'. 'He might not be wrong', said Elon Musk on Twitter last week in response to someone who tweeted Kaczynski's claim that the Industrial Revolution was a disaster for humankind. Mr Musk, you make automobiles and spaceships and you aspire to make 'loop' public-transportation systems. The 'polluting' architects of the Industrial Revolution made your every modern endeavour possible. Stop being ungrateful.
That's enough about Ted Kaczynski. What a shame that his name lives in history, or at least in infamy, while the names of the three people he murdered have been forgotten. They were Hugh Scrutton, the owner of a computer store in Sacramento; Thomas J Mosser, an advertising exec at the supposedly anti-green firm, Burson-Marsteller; and Gilbert Brent Murray, a lobbyist for the timber industry. These three good people contributed far more to humanity, to our free, comfortable, interesting lives, than Kaczynski and his sad fanboys ever will. Remember them, not him. Celebrate the glorious boons of modernity, not the bitter, primitivist loathing of it.
Brendan O'Neill is spiked's chief political writer and host of the spiked podcast, The Brendan O'Neill Show. Subscribe to the podcast here. His new book – A Heretic's Manifesto: Essays on the Unsayable – is available to order on Amazon UK and Amazon US now. And find Brendan on Instagram: @burntoakboy
To enquire about republishing spiked's content, a right to reply or to request a correction, please contact the managing editor, Viv Regan.