My vagina is not a 'bonus hole'
'Trans-inclusive' language is dehumanising women.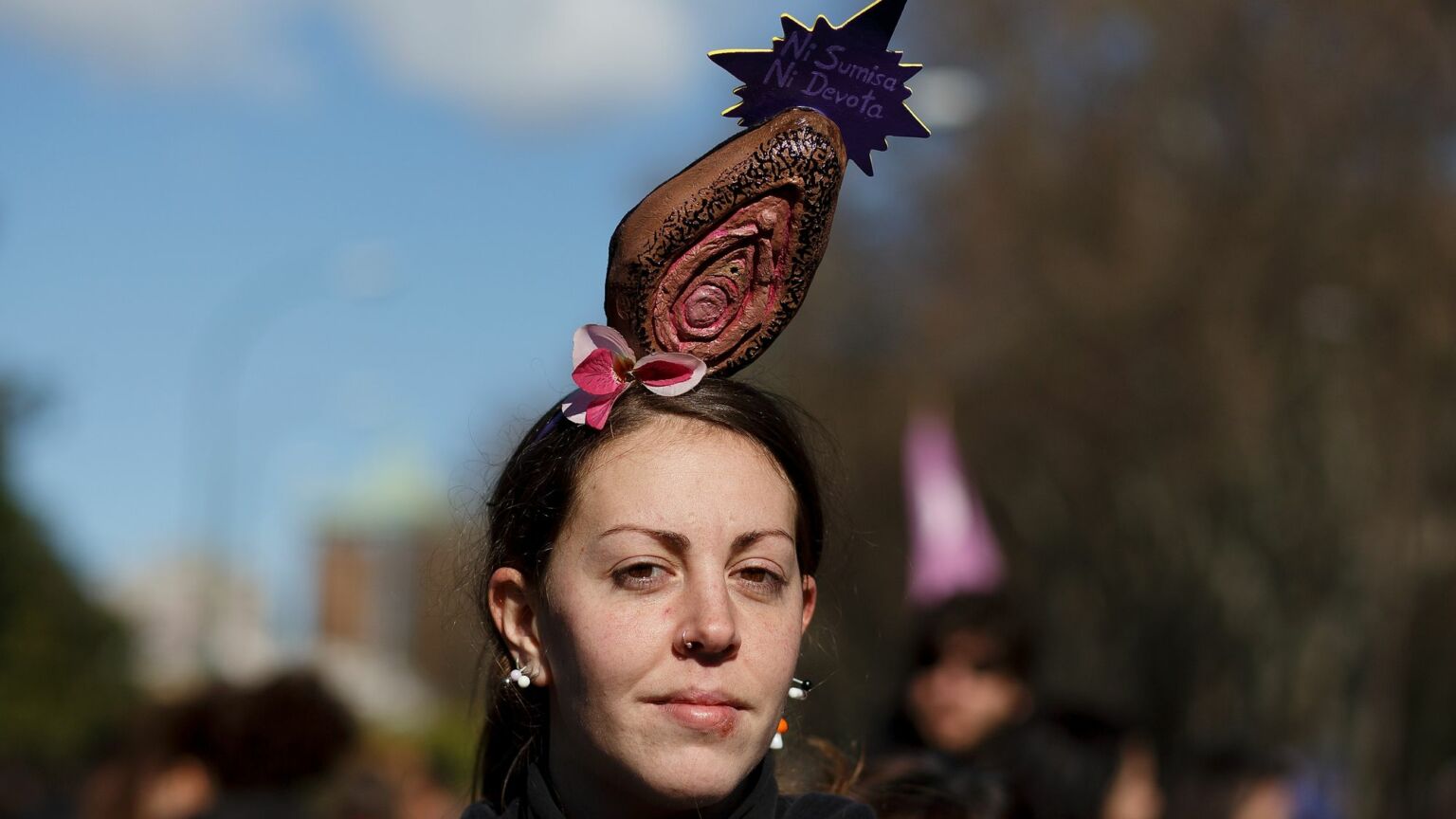 The vagina: desired, dissed and demonised since the dawn of time. Source of all human life and repository for a great deal of human spite. Also known as a pussy, a snatch and a word considered the worst in the English language, which says a lot.
I grew up working class in the 1970s; my mother taught me to call it Down There. Practically no one apart from sex-ed teachers used the v-word back then. Thanks mainly to feminists, its use is far more widespread now. But still there is work to be done. The Eve Appeal found in 2014 that a whopping 65 per cent of women aged 16 to 25 have a problem with using the word vagina or vulva, while 40 per cent said they used wimpy names such as 'lady parts' when discussing gynaecological health.
So imagine having a daughter today, just starting school. You've been scrupulous about using the correct word for her primary sex organ, and then she comes home from school squealing: 'Mummy, mummy – I'VE GOT A BONUS HOLE!' Do you think that couldn't happen? If so, what planet have you been living on for the past few years?
The term 'bonus hole' came to national attention last week when it appeared in the glossary of a cervical-cancer charity's website. Both 'bonus hole' and 'front hole' are recommended as trans-friendly alternatives to vagina. Trans ideologues have long tried to erase or appropriate any word that is specific to females – from woman to mother and now vagina. And they have gained a foothold in our schools and in our media. Now gynaecological-health providers are swallowing the stupid pills, too.
Jo's Cervical Cancer Trust was set up by James Maxwell to commemorate his wife, who died from cervical cancer at the age of 40 in 1999. It is the only UK charity that deals solely with this killer disease. How sad that such a bequest has been polluted by the politics of gender woo-woo. The word 'bonus hole' sounds more like something out of a gonzo-porn flick than the kind of thing you'd hear from an organisation offering succour to scared women. Lord forbid that the majority of women living in the real world should ever be given more respect than the tiny minority of body dysmorphics who might be 'hurt or distressed' by that nasty v-word.
I agree with the splendid Bev Jackson, co-founder of LGB Alliance, that 'disgusting language like this which intentionally dehumanises women must be rejected by all reasonable people'. And I agree with Caroline Ffiske of Conservatives for Women, who said: 'The gender movement seems to want to encourage body disassociation and hatred – in other words, to actively create more confused young people alienated from their own physicality and their own sex.'
Jo's Cervical Cancer Trust has attempted to defend itself, but this has only added to the air of befuddlement:
'The information being shared is from a webpage written for health professionals to support trans men and / or nonbinary patients with a cervix to attend cervical screening… Women are our main audience at Jo's, however, some trans men and / or nonbinary people have cervixes and to reduce as many cervical cancers as possible it is important that we also provide information for this group and the health professionals who support them. We are a small charity and threatening and abusive behaviour towards the charity and our staff will not be tolerated.'
That last bit actually crosses from the muddled into the offensive, considering the threatening and abusive behaviour that trans activists so often display towards women. Take, for instance, the exhortation from a convicted kidnapper to punch TERFs in the face at last weekend's 'Trans+ Pride' rally in London.
Jo's Cervical Cancer Trust is a women's charity for a disease that only affects women. It's a matter of record that women receive more inaccurate diagnoses and worse treatment than men in the NHS. Is it too much to ask that this dedicated organisation deals solely with the issue it was set up to tackle? It shouldn't have to waste precious resources catering to the tiny minority of women – and if they have a cervix, that's what they are – with gender dysphoria.
If any half-wit out there keeps mouthing the mantra that 'Being woke is just being kind', then remind them of the bonus hole. This is not how kindness speaks. This is how the only 'liberation' movement ever inspired by pornography speaks. This is where you inevitably end up when being a woman becomes a feeling at best, and a flesh suit, like that worn by Ed Gein, at worst. Punch a few holes in it here, add some pretend breasts there – et voilà, you're a lady!
The woke will not rest until they have crushed those uppity women who won't quietly accept their erasure – that's how we know this is a reactionary movement, not a revolutionary one. You can see its misogyny in the way that men's words are still respected by trans ideologues. Men are never asked to call themselves 'prostate-havers' or 'ejaculators'. Or just look at how that bloke who took a selfie 'feeding' a baby earlier this month was called a 'mum' by his fawning fans, whereas pregnant women are described by the NHS as 'birthing people'.
It's no mystery why a minority of kinky men want to ride roughshod over the hard-won dignity of women – that's their kink. It's the motivation of the Vichy Feminists that has always puzzled me. Those self-declared women's rights activists who want rapists to be placed in female prisons and who are now attempting to justify women's intimate anatomy being described as a collection of holes. Were they unpopular at school and are still trying desperately to get picked by the boys? Do they suffer from internalised misogyny? Are they just thick? No matter what the reason, what a worthless bunch of cowardly, treacherous Transmaids they are. Or – if they're more comfortable with their own nasty vernacular – what a worthless bunch of bonus holes.
Julie Burchill is a spiked columnist. Her and Daniel Raven's new play, Awful People – about sex, race, class and virtue-signalling – plays on Brighton Pier on 22 September. Get tickets here.
To enquire about republishing spiked's content, a right to reply or to request a correction, please contact the managing editor, Viv Regan.