Will the real Keir Starmer please stand up?
One moment he's condemning eco-zealots, the next he's trying to get one elected to parliament.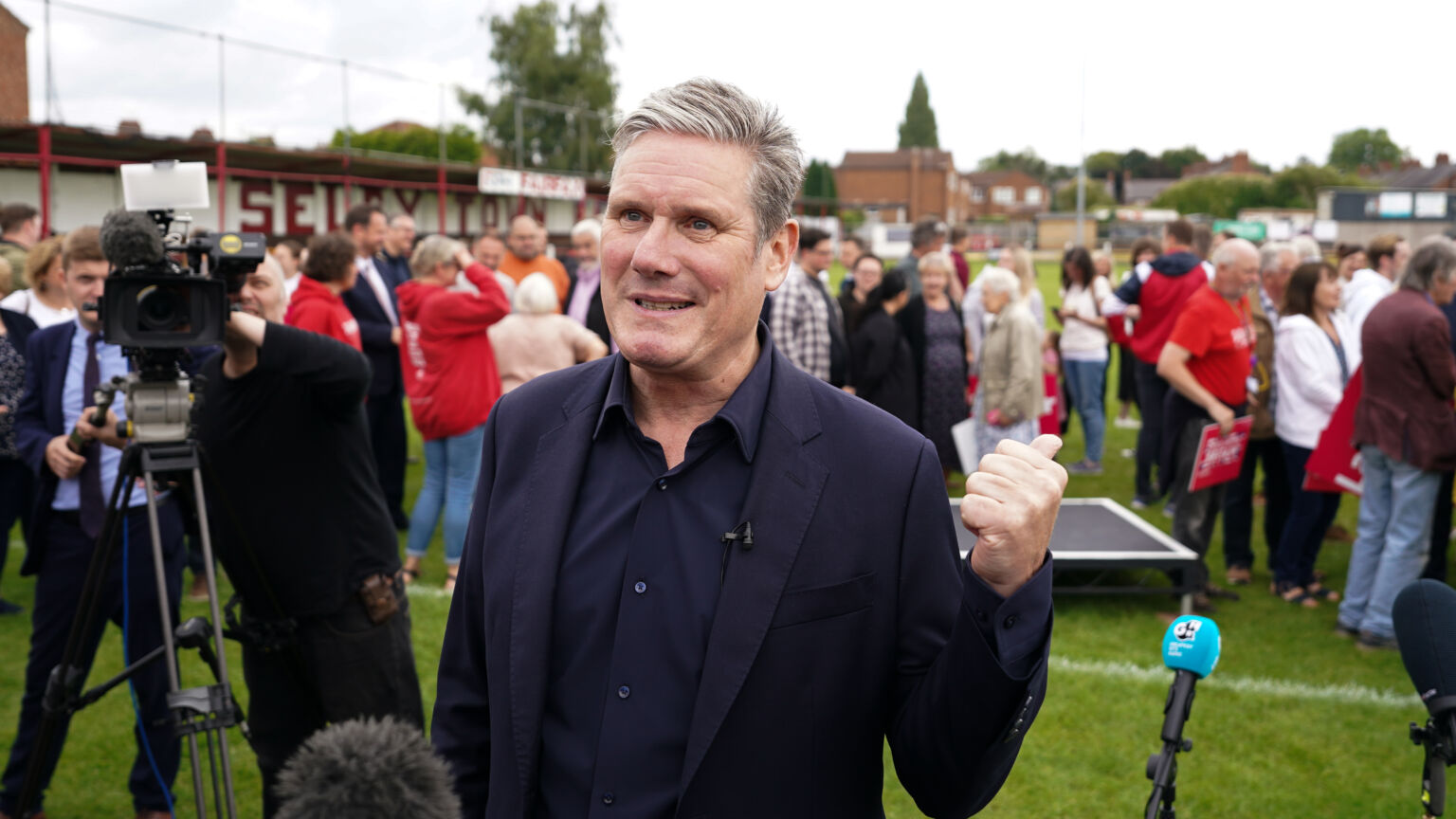 Who is the real Keir Starmer and what does he really believe? With Labour still well ahead in the opinion polls, this is a question that is likely to loom ever larger as the next UK General Election approaches. The Labour leader has now presented alternative versions of himself to the electorate on so many important issues that anyone would be forgiven for thinking that there is only an empty void beneath. Nationalising utilities, scrapping student fees, honouring or undoing Brexit, supporting or opposing freedom of movement, raising taxes on the highest earners or not – these are just a few of the issues on which he has already flip-flopped.
Increasingly, the Conservatives are homing in on Starmer's attitudes to green issues. They have tried to paint him as an ally to the eco-zealots who are becoming such a disruptive force in our national life. Revelations, first reported in the Sun this week, about the Labour candidate in the looming Mid Bedfordshire by-election have given the Tories fresh ammunition.
We now know that Alistair Strathern, a Labour councillor and adviser on climate issues to the Bank of England, took part in a stunt with Greenpeace late last year. It involved him dressing up as a zombie as part of a protest outside the Home Office. The protesters were objecting to the government's Public Order Act 2022, which was designed to curtail the ability of activist groups to disrupt everyday life. (Plus, Strathern's long-term girlfriend is a political officer for Greenpeace.)
This entanglement is clearly an embarrassment for Starmer. It comes in the wake of Greenpeace's widely condemned protest on the roof of prime minister Rishi Sunak's constituency home last week. Greenpeace defended this action as a 'proportionate response' to Sunak's decision to allow further drilling for oil and gas in the North Sea. But Labour HQ took a tough line, condemning the stunt as 'totally unacceptable'. Having an active Greenpeace backer as a Labour by-election candidate clearly undercuts Starmer's attempts to portray himself as tough on eco-protesters.
The Conservatives are now demanding that Starmer change his candidate. As energy secretary Grant Shapps put it: 'One minute [green activists] are climbing the PM's house, [the] next they've got a Labour rosette on. Sir Keir Starmer must show he practises what he preaches for once and block the eco-mob from his candidates list.' Given that the current MP, Nadine Dorries, has not actually resigned yet to trigger the Mid Bedfordshire contest, it is not too late for Starmer to do this.
The fact that Mr Strathern is only connected tangentially to the pariahs of Greenpeace should help his case. But this being politics, all that matters is whether the Tories succeed in turning his candidacy into a test of Starmer's sincerity.
True to form, Starmer has already taken up multiple contradictory positions on radical environmentalism. In May 2019, he backed the idea of expanding the ULEZ car tax across outer London, which he has since rowed back on following Labour's defeat last month in the Uxbridge by-election. Back then, he also spoke approvingly of Extinction Rebellion's efforts to gridlock the capital's roads, stating: 'The recent Extinction Rebellion protests have been a stark reminder future generations will not forgive us.' He also recently accepted a £1.5million donation to Labour funds from Dale Vince, a green-energy entrepreneur who also funds Just Stop Oil. Yet, in October last year, Starmer branded Just Stop Oil's regular blockading of roads 'arrogant' and 'wrong'.
Thus far, Starmer seems to be concluding that quietly standing by Strathern is the least-worst option, though if the row escalates, one can expect a reversal of that position. Perhaps someone in Starmer's circle has regaled him with the horror story of the 1983 Bermondsey by-election. This was when then Labour leader Michael Foot publicly pledged to block Peter Tatchell from running as a Labour candidate and then failed to do so, shredding whatever remaining authority he had in the process. One can hardly imagine Starmer getting himself into such a pickle, but he will surely be aware that his own personal credibility is going to be tested as never before in the run up to next year's General Election.
Starmer certainly has a history of deploying camouflage to assist him in his high-speed ascent to the top of British politics. Most notable was the radical leftist manifesto that won him the Labour leadership in 2020, which he has since abandoned wholesale. No doubt the Tories will try to persuade floating voters that this represents the real Starmer, and that his current pose as a moderate is not to be trusted. But wiser judges in the electorate may conclude that seeking to discern what is camouflage and what represents Starmer's true colours is a fool's errand. Perhaps in the case of this political chameleon, the real thing and the mask are one and the same thing.
Patrick O'Flynn is a former MEP.
To enquire about republishing spiked's content, a right to reply or to request a correction, please contact the managing editor, Viv Regan.