Mohamed Al Fayed: the 'unacceptable face' of late capitalism
The notorious billionaire exploited a decadent UK establishment that shunned him.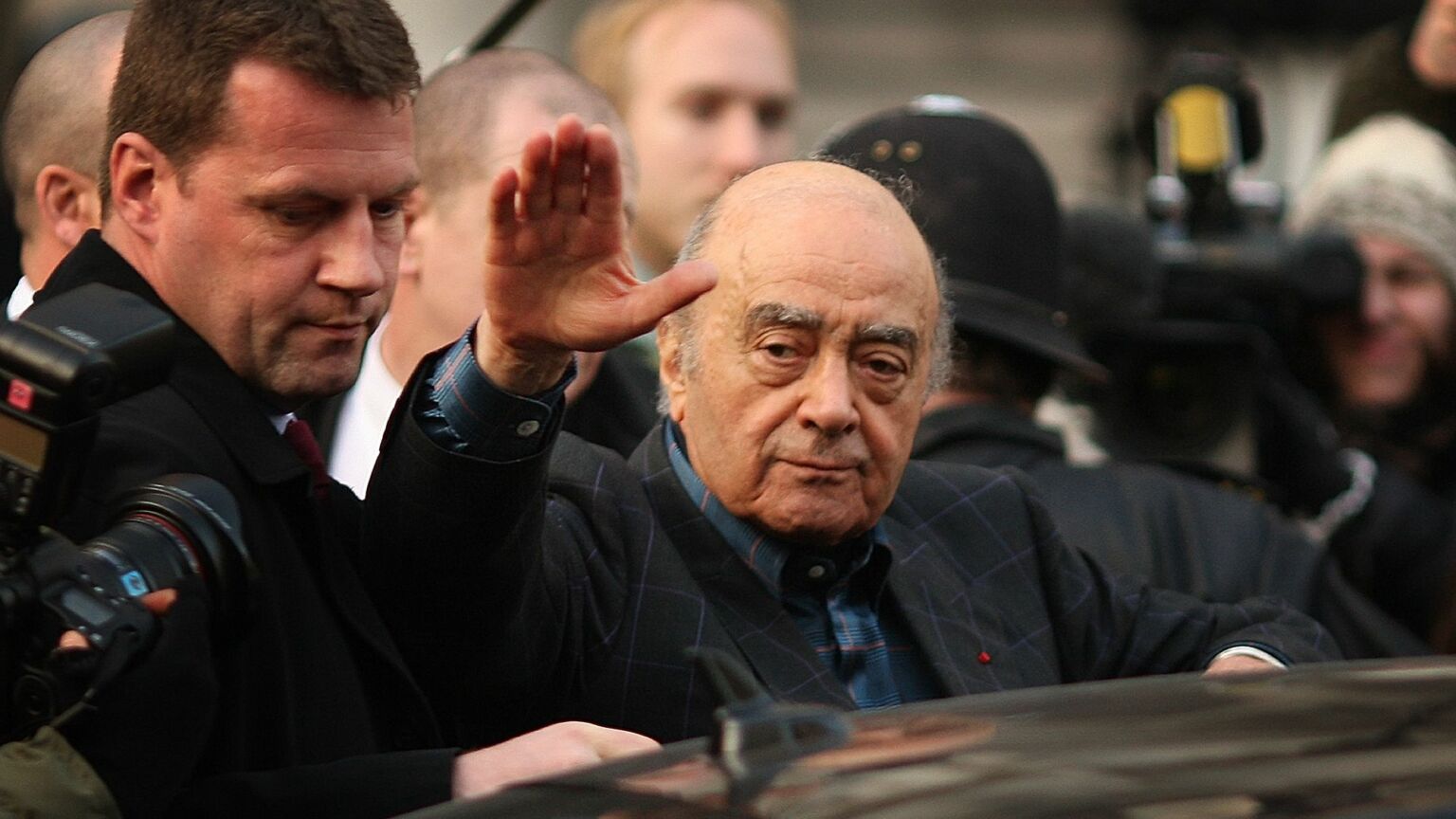 Why has last week's death of 94-year-old Mohamed Al Fayed, a once-notorious UK-based, Egyptian-born billionaire, unseen for years, excited such an outburst of news headlines and media comment?
The BBC broadcast an old recording of Al Fayed himself, declaring with typical bluntness that 'I love the masses and the people, I don't care about those bastards' – the bastards in question being the British establishment. Many other media commentators came to bury not to praise Al Fayed, damning him as a ruthless bully 'obsessed with status and wealth', who had tried and ultimately failed to wheedle and cheat his way into the upper classes and even the royal family itself.
So, self-styled caring man of the common people or arrogant wannabe British gentleman? Either way (or perhaps most likely, a bit of both), Al Fayed's impact on UK society in life, and the reaction to his death, surely reveals at least as much about the turmoil of the British establishment in the 20th century as it does about the man himself.
Al Fayed's story was certainly extraordinary. Born in 1929, he rose from selling Coca Cola on the smog-choked streets of Alexandria, Egypt to become a London property magnate and the owner, alongside much else, of Harrods, the posh people's store in Knightsbridge, and Fulham Football Club.
Along the way, he invented a wealthy background (it is assumed that plain Mohamed Fayed added the upper-class prefix 'Al' to his name in the 1970s, to denote fictitious aristocratic connections), and got rich by mixing (and falling out) with the likes of legendary international arms dealer Adnan Khashoggi, the uber-opulent Sultan of Brunei, and 'Papa Doc' Duvalier, bloody dictator of Haiti.
Once landed in Britain, Al Fayed would use every trick to scramble up the social pole, from double-crossing fellow tycoon Tiny Rowland, in order to secure ownership of Harrods in 1985, to attempting to bribe Tory MPs to do his bidding in parliament in the 1990s. He became a staple feature in satirical magazine Private Eye, where every other word would be punctuated with his trademark expletive, 'fuggin'.
Al Fayed's ultimate advancement scheme, to marry his son Dodi off to the divorcee Diana, Princess of Wales, and thus become step-grandfather to Princes William and Harry, ended in tragedy when Diana and Dodi were killed in a drink-driving accident in 1997. They had been motoring at speed from Al Fayed senior's Paris Ritz Hotel, with his intoxicated employee at the wheel. Ignoring all evidence to the contrary, Al Fayed insisted in both a libel court and at the inquest that Diana had been pregnant with Dodi's baby, and had been assassinated by MI6 and Prince Philip – 'a murdering Hun with Nazi tendencies' – to prevent a Muslim from becoming half-brother to William, the future British king.
Little wonder, we might think, that the outrageous Al Fayed was so widely and often bitterly remembered over the past week or so. Yet an important part of his story is that, at every stage, he was able to exploit the weaknesses of a decadent, divided British establishment that had shunned him as a vulgar upstart.
Al Fayed's first business success was seemingly an indirect result of the 1956 Suez Crisis, when the British Empire was politically and militarily humiliated after President Nasser of the new republic of Egypt nationalised the key imperial trade route, the Suez Canal. Many foreign business interests in the area took fright and sold up cheaply, with Al Fayed on hand to collect.
Once he moved to Britain, Al Fayed would persuade the fee-obsessed financial suits of the City of London to endorse his claims to be the son of a wealthy Pasha, as part of his successful battle with Rowland to take over Harrods.
Furious at being double-crossed, Rowland demanded an inquiry, which revealed Al Fayed in such a bad light that the new owner of London's premier department store was deemed unfit for British citizenship. Though anybody inclined to imagine Al Fayed as a unique foreign stain on the good name of UK plc might recall that Tiny Rowland's own business had previously been memorably branded by former Tory prime minister Edward Heath as 'the unacceptable face of capitalism'.
Horror in high places at the idea of an Egyptian upstart owning Harrods did not, however, prevent Britain's hungry elites from accepting Al Fayed's largesse. For years, Harrods under his ownership retained its royal warrants and was even allowed to sponsor the Royal Windsor Horse Show, which allowed him to sit next to Her Majesty the Queen. (The arrangement was eventually ended reportedly due to his 'colourful' outbursts.)
Outraged at being denied British citizenship, Al Fayed turned to the exhausted, sleaze-ridden Tory Party of the 1990s in search of revenge, offering MPs bribes to ask questions in parliament on his behalf. When the Tories failed to deliver, he exposed them as corrupt. One, Neil Hamilton, sued him for libel and lost. Another, former Conservative cabinet minister Jonathan Aitken, tried to sue the Guardian and Granada TV for reporting on his dealings with Al Fayed and ended up in jail for perjury. The Al Fayed-inspired 'Cash for Questions' sleaze scandal would prove a factor in John Major's Tory government being destroyed by Tony Blair's New Labour at the 1997 general election.
Denied the status that traditionally came with owning a UK national newspaper (unlike the 'unacceptable' Rowland, who was proprietor of the supposedly liberal Observer), Al Fayed instead turned to the new national platform for publicity and influence provided by Premier League football. One of many dubious businessmen who would be allowed to pass English football's pathetic 'fit-and-proper-person' test for owning a club, Al Fayed did deliver on his promise to take lowly Fulham FC to the promised land of the Premier League. He was in his element striding across the pitch at Craven Cottage to the Fulham fans' acclaim, 'like a pharaoh' as one obit had it, or introducing his celebrity pal Michael Jackson to the players. ('Hide your willies!', he is said to have shouted to them as a presumably bemused Jacko entered the dressing room.)
Even Al Fayed's manoeuvrings around the royal family were about taking advantage of the old establishment's turmoil, from Charles and Diana's divorce to the royals' declining public esteem. Of course, his allegations that Diana and Dodi were murdered by MI6 and the Duke of Edinburgh, with the support of Blair's government and the French authorities, sound like the paranoid rantings of a heart-broken, guilt-wracked parent. Yet in the febrile atmosphere of national 'mourning sickness' that followed Diana's death, such wild stories could be treated seriously by many. His later outbursts would also feed into the widening conspiratorial outlook taking hold in sections of public opinion and the media, when it seemed anything could reasonably be branded a plot by 'them'. At the inquest into Diana and Dodi's deaths, where Al Fayed gave full vent to his fact-free conspiracy theories, he was actually represented by top radical lawyer Michael Mansfield QC, legal hero of the British left from the Miners' Strike to the Stephen Lawrence inquiry.
There might seem little doubt that Mohamed Al Fayed was an unsavoury character. His reputation has also fallen foul of the changing ethical standards in working and public life, with former employees latterly coming forward to complain about bullying and sexual harassment. The giant, risible statue of Michael Jackson that he installed outside Fulham's stadium has now been relegated to a storage unit of the National Football Museum in Manchester, a symbol of the pariah status of both Jacko and Al Fayed in many circles today.
Yet it remains important to situate such an extraordinary individual in the wider context of his times, where both the impact he made in life and the reaction he prompted in death can surely only be understood as a side-effect of what was happening at the top of British society.
Unlike some of my fellow journalists of 'a certain age' who have commented after his death, I never worked for or even met 'Mo'. (He spent a small fortune on a failed revival of the legendary satirical magazine, Punch, from 1996 to 2002.) I do, however, recall seeing a memorable 'secret' tape of his meeting with Tiny Rowland during their long-running feud. It begins halfway through an exchange, with Al Fayed laughing at Tiny. 'I'm talking about your cock', he scoffs, 'not my cock'. It seems a fitting epitaph, somehow.
To enquire about republishing spiked's content, a right to reply or to request a correction, please contact the managing editor, Viv Regan.