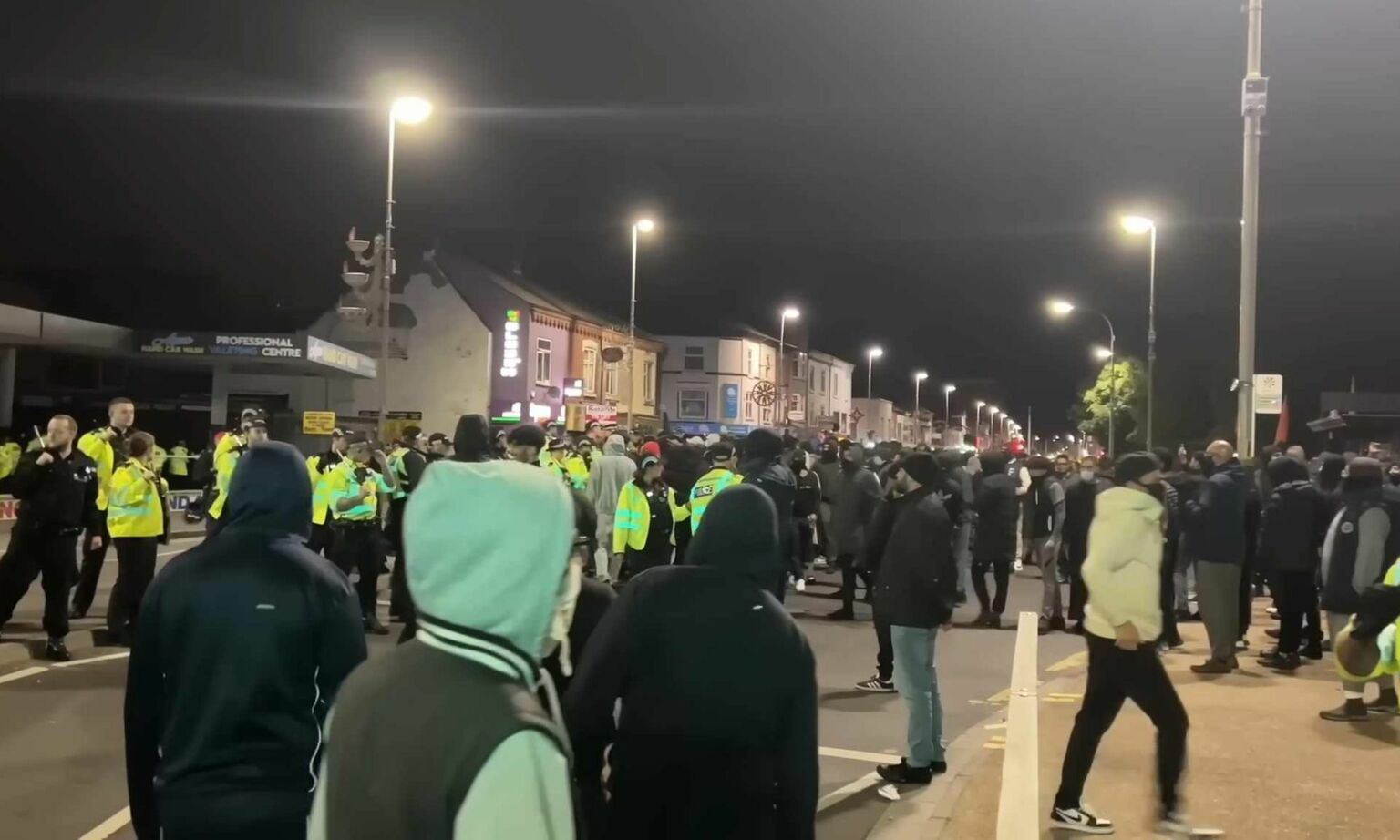 Long-read
Leicester: a powder keg waiting to explode
Last year's riots revealed the folly of celebrating diversity without forging shared values.
It is one year on from the violent unrest in Leicester, which by mid-September had culminated in large-scale public disorder. This was when gangs of masked Muslim and Hindu youths fought each other on the normally quiet suburban streets of this English city.
After the unrest, there was no shortage of police activity. Around 150 people have been either arrested or interviewed under caution, and prosecutors have secured a string of weapons-related convictions.
But there still hasn't been a proper reckoning. What happened in Leicester, this supposed paragon of modern-day diversity, ought to have been a watershed moment in British community relations. It ought to have prompted serious questions about the state of social cohesion, especially in Britain's hyper-diverse urban areas.
But it hasn't. Instead, politicians and pundits have all too often framed the Leicester riots as a straightforward Hindu-vs-Muslim conflict. They have been only too happy to blame one side or the other for the violence. This approach is reductive and unhelpful. In truth, the riots weren't just informed by a Hindu-Muslim rivalry. They were also fuelled by a set of complex social, political, economic and cultural dynamics.
A changing Leicester
Leicester has undergone significant demographic change in recent decades. Large numbers of migrants from the Indian subcontinent began to arrive in the city in the 1960s. Their numbers were further boosted by East African Asians fleeing aggressive 'Africanisation' policies during the 1960s and 1970s, such as those of Ugandan dictator Idi Amin, who confiscated the assets of Asian-origin families and gave them 90 days to leave the country. While some of these migrants settled into roles in the NHS, others who previously formed the backbone of East African economies started up successful businesses in Leicester.
In recent years, there have been many more new arrivals from India. In particular, there was an influx of people during the 2010s from Daman and Diu, a territory in northwestern India with a Hindu-majority population (with notable Muslim and Christian minorities). One legacy of colonisation is that Indian citizens born in that region are entitled to a Portuguese passport, which allowed for relatively smooth entry into the UK pre-Brexit.
The effect of these waves of immigration on Leicester has been profound. It is now one of just a few places in the UK where the majority of the population is non-white. Moreover, this shift has accelerated over the past decade. According to census data, in 2011 50 per cent of Leicester residents identified with a white ethnic group. By 2021 this figure had fallen to 40.9 per cent. This meant that for the first time in census history, Asian people outnumbered whites in the city – with 43.4 per cent of Leicester residents identifying as Asian.
Likewise, the proportion of Leicester residents who were born in India increased from 11.3 per cent in 2011 to 16.2 per cent in 2021. Leicester's Muslim population has also increased over this period, from 18.6 per cent to 23.5 per cent. As has the Hindu population, which has risen from 15.2 per cent to 17.9 per cent. The proportion of people who exclusively identify with a non-UK national identity has risen from 17.2 per cent in 2011 to 24.1 per cent in 2021.
This tells us something significant. During the 10 or so years preceding the riots Leicester had become an Asian-plurality city with rising proportions of foreign-born people (especially from India). And crucially, an increasing number of Leicester's residents had come to strongly identify with a nation other than the UK.
Failure of local leadership
Such a rapid pace of social and demographic change was always going to pose significant challenges to social cohesion if not handled properly. And it hasn't been handled properly. The Labour-run city council and local MPs have failed spectacularly. They have, if anything, sought to exploit the Indo-Pakistan, Hindu-Muslim tensions in Leicester. And they have done so for their own political gain.
Take local Labour politicians' response to the re-election of Narendra Modi as Indian prime minister in 2019. Despite his association with Hindu fundamentalism (or Hindutva ideology), Modi's re-election was celebrated at the Shree Hindu Temple in Leicester, with attendees including local Labour councillors and former Labour MP Keith Vaz (who is himself Catholic). Vaz reportedly described one part of Leicester as 'Little India here in the UK'.
Meanwhile, at a national level, the Labour Party has made things worse by posturing against India, which has in turn affected Leicester's internal dynamics. For example, under the leadership of Jeremy Corbyn, Labour parachuted the now-disgraced Claudia Webbe, a councillor from Islington in London, into the constituency of Leicester East as a candidate for the 2019 General Election. This was the same Claudia Webbe whose chairing of an emergency debate on Kashmir at the 2019 Labour Party conference, which criticised Indian actions in the disputed territory of Kashmir, reportedly upset parts of Leicester's Indian population. Sundip Meghani, a former Labour councillor, described Webbe's selection as a 'slap in the face for the Indian community' and accused Labour of being 'an institutionally racist, anti-Indian party'. He has since joined the Conservatives.
It should have been clear to Leicester's councillors and MPs that their city was in trouble. Ethnic and religious tensions were being compounded by a growing inability to integrate the growing number of new arrivals from the Indian subcontinent. Yet instead of trying to calm tensions, politicians fuelled them. Indeed, instead of trying to establish a shared, civic attachment to Leicester and the UK, they encouraged rival communities' attachment to the conflicts on the Indian subcontinent.
It's not just the politicians who are at fault. Local academics and civic centres that supposedly specialise in community engagement have also been found wanting. Leicester's educational institutions continued to promote diversity as a good thing in and of itself, with no real emphasis placed on social cohesion. This has only entrenched people in their respective ethnic and religious identity groups. It has effectively licensed ethnic and religious divisions.
Just a few weeks before the riots began, the University of Leicester announced plans to hold a series of events to celebrate migration and diversity in Leicester. John Williams, from the university's 'Unit for Diversity, Inclusion and Community Engagement', said that Leicester had been transformed over the past few decades from a tired and non-descript city into a 'thriving and successful multicultural place'. The inability of the local university to see the clear problems in Leicester's midst shows the grip that the ideology of diversity and multiculturalism holds there. It was busy celebrating 'difference' even as tensions between groups were reaching boiling point.
Leicester erupts
The spark for the riots was an Asia Cup cricket match between India and Pakistan on 28 August. From that point on, the violence escalated. During this period, members of Leicester's Indian community staged a pro-Hindutva march through majority-Muslim neighbourhoods. In turn, Islamist aggressors intimidated local Hindus and even vandalised a local temple. It all reached its depressing climax on the eve of the Queen's funeral. While the rest of the nation prepared to pay their respects to our departed head of state, Leicester descended into violent religious street fighting.
Rob Nixon, the chief constable of Leicestershire Police, has said that Leicester had struggled to integrate 'new and emerging communities' and pointed out the 'lack of social or cultural respect' between them. Nixon has also pointed to a generational disconnect between 'traditional faith-based leadership and the younger generation' in both the Hindu and Muslim communities. This, he argues, was exploited by religious hardliners on social media – such as Islamist preacher Mohammed Hijab, who was in Leicester during the riots.
My own fieldwork and interviews with Leicester residents (for a forthcoming report) show that Nixon's view is shared by Leicester's established middle-class residents (including first-generation migrants within both Hindu and Muslim communities). They primarily blame the disorder on 'younger', 'anti-social' and 'poorly integrated' new arrivals from India, who work in low-paid menial jobs and live in overcrowded housing. It is worth noting that recent polling has found that six in 10 voters in Leicester East – a constituency where nearly seven in 10 residents are of Asian heritage – believe that immigration is too high.
But I also discovered that there are newcomers from India and Pakistan who feel they are being scapegoated for the disorder by Leicester's more established residents. What is clear is that these intergenerational and socio-economic differences within Leicester's religious communities are being overlooked by those reducing the riots to a simplistic Hindu-vs-Muslim conflict.
The aftermath
Following the riots, the mayor of Leicester, Sir Peter Soulsby, announced an independent review and appointed academic Chris Allen to lead it. This was a dubious decision. Allen, an associate professor of 'hate studies' at the University of Leicester, specialises in 'Islamophobia'. Given the opinion piece he had already written about the unrest, in which he said Islamic extremism played no role and essentially blamed Hindus, his bias was all too obvious. He was forced to step down from the review after Hindu and Jain organisations threatened to boycott it.
Like Soulsby, Labour MP Kim Leadbeater has also decided that Hindu extremists were solely to blame. The Batley and Spen MP published a letter last November urging home secretary Suella Braverman to focus on 'the rise of Hindutva ideology in this country' and 'called for appropriate action to be taken against the perpetrators of coordinated violence against the Muslim community in Leicester'. She made no reference to the involvement of Muslim youths in the riots or the reported cases of violence, intimidation and harassment towards Hindus.
For its part, the government has appointed Lord Austin to lead its own review into the unrest. Predictably, Austin's appointment has been criticised by Muslim councillors and organisations in Leicester, along with the Muslim Council of Britain, on the grounds that there are 'serious allegations of Islamophobia against him'.
Moving forwards
Britain remains one of the most successful multiracial democracies in the world. Millions of migrants have made Britain their home. This has largely been successful, with Britain showing itself to be a welcome, tolerant nation. But immigration does pose challenges, too, particularly at a time when Britain lacks a sense of shared values and national identity. As Leicester shows, this means that many new arrivals have been importing sectarian divides, geopolitical grievances and communalistic territorial disputes. This has been made worse by local politicians, who have exploited these divisions for their own electoral benefit.
In Leicester, as in so many towns and cities, elected leaders should be showing moral and political leadership. They should be challenging divisions. But all too often those elected to public office prefer to do the opposite. Alongside academics and assorted NGOers, politicians have effectively helped cultivate a grievance politics in Leicester. They have encouraged young Asians to see themselves as victims of foreign territorial disputes and communal tensions in the Indian subcontinent.
What happened last year ought to be a wake-up call not just for Leicester but also for other hyper-diverse parts of the UK. More time and energy needs to be invested in championing place-based identities and civic forms of belonging. It's all too easy for established communities to blame new arrivals for social tensions. Those established communities need to take some responsibility, too. They need to start fostering a sense of belonging based on local history and civic pride. These can act as a shield against tribal loyalties and sectarianism. Civic associations, educational institutions and businesses, meanwhile, need to make a genuine effort to integrate newcomers socially, economically and culturally into their communities.
A diverse society is not worth celebrating in and of itself. It needs to be tied together by shared values, mutual obligations and a sense of common purpose. Without this, the unrest we saw erupt in Leicester last year could just be the beginning.
Rakib Ehsan is the author of Beyond Grievance, which is available to order on Amazon.
Correction: An earlier version of this article stated that MP Claudia Webbe had supported the Labour Party's 2019 emergency motion criticising India's actions in Kashmir. She had actually chaired the debate on the emergency motion.
To enquire about republishing spiked's content, a right to reply or to request a correction, please contact the managing editor, Viv Regan.