Our hollow prime minister
A politician who believes in nothing is a dangerous thing.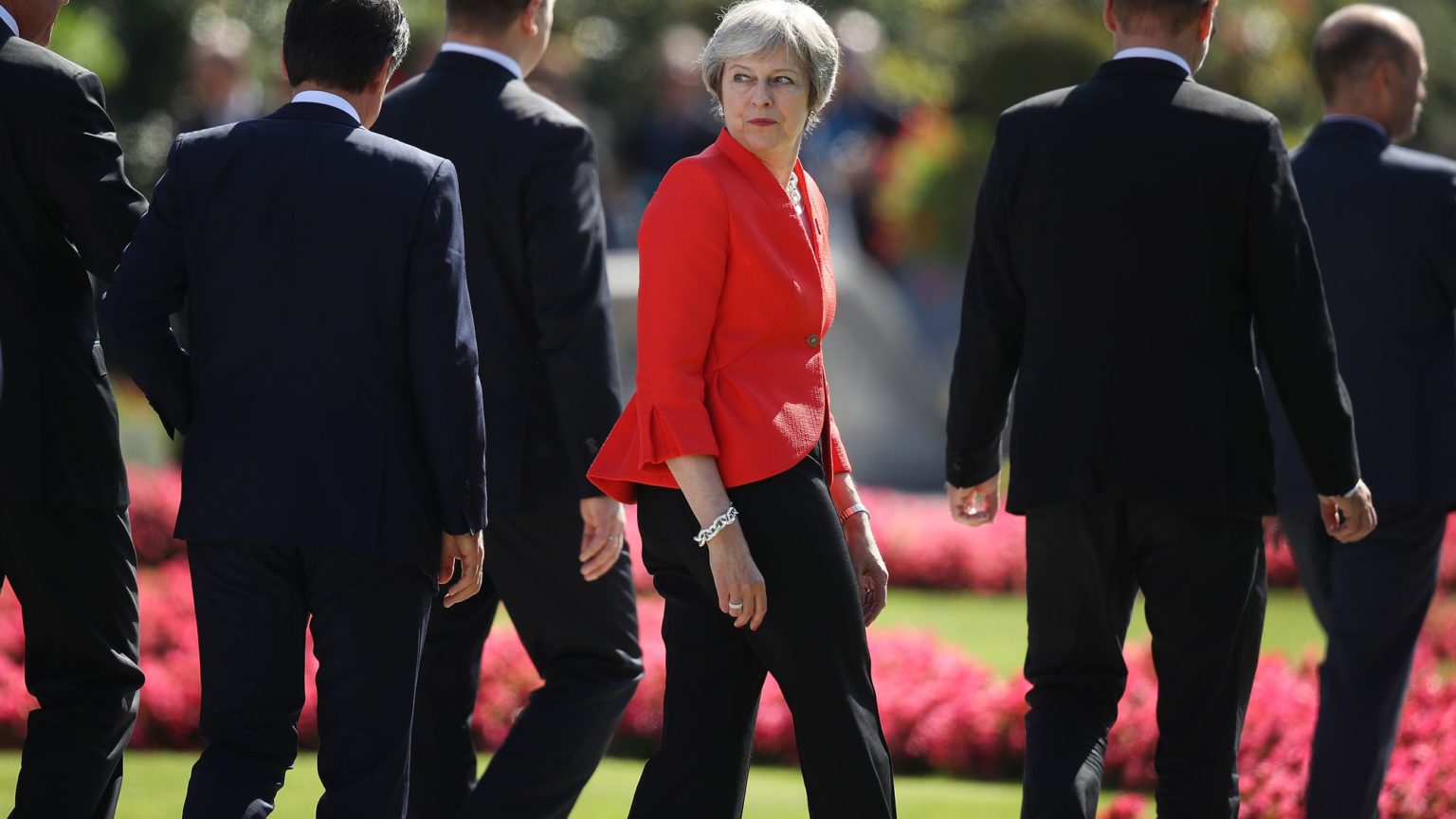 'Getting the job done.' That has always been Theresa May's political mantra. And in many ways, it is why we're in the Brexit mess we're in.
The main, in fact only selling point of the Chequers Deal – the Brexit plan May pushed through her cabinet at the cost of her two leading Brexit-supporting ministers – was that it was workable. That it would kind-of deliver on Brexit, satisfy parliament, and be negotiable with the EU.
But none of this, of course, turned out to be true. Her plan, which would keep us in the Single Market for goods, has been roundly rejected by voters: a poll this week has support for it at just 11 per cent. Labour is committed to voting it down, and so are around 80 Tory MPs. And on Monday, at the meeting of European leaders in Salzburg – which fittingly resembled a summit of Bond villains – the EU rejected it out of hand.
If this is 'getting the job done', I'd hate to see the alternative. Indeed, the paradox of May's 'realistic', 'what works' approach to these negotiations is that it is clearly unrealistic and not working.
The EU is a rules-based bureaucratic order, more than willing to put its own economic interests at risk in order to hold itself together. It is not going to allow Britain to stay in some of the Single Market, to commit the cardinal sin of 'cherry-picking'. Nor is it going to do anything that might help make Brexit look like a success to its increasingly Eurosceptic citizens.
Similarly, when it comes to pleasing the people and parliament, May's Brexit plan is yet more proof that if you stand in the middle of the road, you get hit by traffic from both directions. No one voted on 23 June 2016 to be shackled to EU rules with less say over them than we had before, which is precisely what Chequers would entail.
The problem is that May is a principle-lite politician grappling with a question of profound principle: Who rules Britain? If you're a democrat, implementing Brexit is non-negotiable. And if you're an EU official, desperate to maintain Brussels' technocratic grip over uppity nation states, then the rules are the rules. These differences can't be triangulated away.
During her time as home secretary, May gained a reputation for being almost obsessive about her brief. But her attention to detail belied a dearth of political substance. Those who have dealt with her say she is overly reliant on advisers for political direction. When Nick Timothy, her pro-Brexit former aide, was running the show, she styled herself as a born-again Brexiteer. When Timothy was ousted, after the Tories' disastrous 2017 election result, civil servant Olly Robbins, the architect of Chequers, was brought into No10 to lead on the negotiations.
That May more or less disappeared during the EU referendum campaign – formally backing Remain, but never actually campaigning for it – once looked like a canny move. It allowed her to snatch the Tory Party leadership while the post-ref recriminations ripped through the rest of the candidates. But now it seems that interpretation gave her too much credit. On the defining issue of our day, she seems like a fence-sitter, at best.
May's positions over the years appear like a mass of contradictions until you realise she lacks anything like a coherent vision. She scrapped New Labour's ID cards, then introduced the snooper's charter. She took the police to task for 'stop and search' and decried the Tory Party's 'nasty party' image, only to preside over the 'hostile environment' migration policy – a regime so nasty it led to British citizens of Caribbean descent being threatened with deportation and having their benefits rescinded.
The prime minister may have certain instincts. A vicar's daughter and a grammar-school girl, she was brought up comfortable but not posh – and was reportedly irked by the more economically liberal, silver-spoon Eton set of David Cameron and George Osborne. Old friends say she found Margaret Thatcher too 'harsh'. This no doubt informed the strange mix of Conservatism and Milibandism in her 2017 manifesto.
But in the end it is through the language of managerialism that she most readily defines her politics. The problem is that in this populist era, in which big political questions are demanding answers, in which the people are striking out for more democracy, and the elite are striking back, 'getting the job done' is no longer going to cut it.
Worse, her flip-flopping and triangulation have been readily exploited by the elites of Westminster and Brussels. While May seems unwilling completely to upend Brexit, she doesn't really want to implement it either. And her attempts to manage her way out of the impasse have set Brexit on the road to betrayal regardless: her moral cowardice has given anti-democrats plenty of room for manoeuvre.
A politician who believes in nothing, it seems, can be a very dangerous thing.
Tom Slater is deputy editor at spiked. Follow him on Twitter: @Tom_Slater_
Picture by: Getty
To enquire about republishing spiked's content, a right to reply or to request a correction, please contact the managing editor, Viv Regan.