There is no police 'genocide' against black Americans
Derek Chauvin's guilty verdict showed that black lives do, in fact, matter.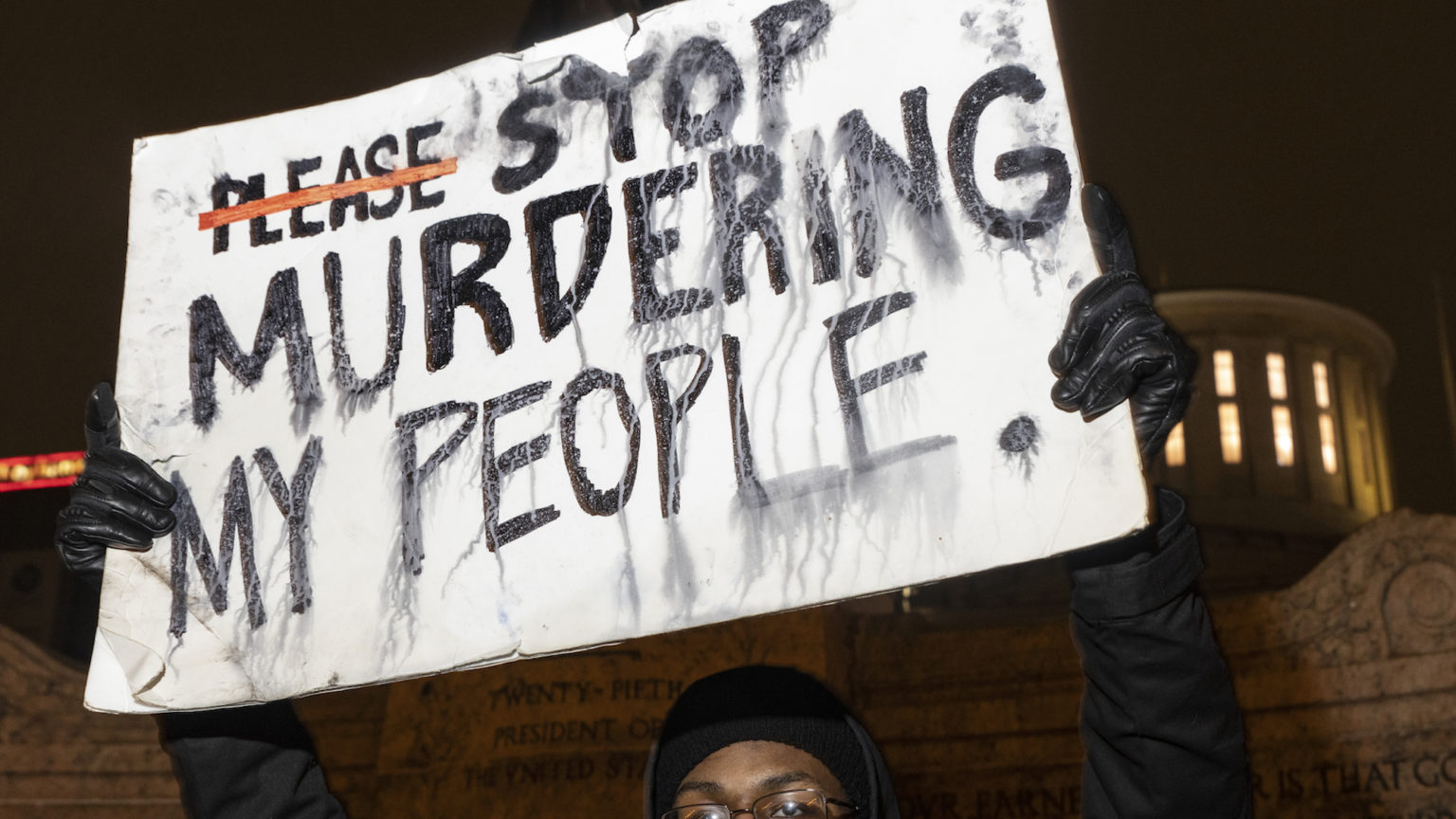 So, Derek Chauvin was convicted on all counts, roughly two weeks ago. Colour me, a black man, unsurprised. The question now is how this will affect the media narrative of an ongoing near-genocide of African-Americans. My guess: it won't change it at all.
The fact that former police officer Chauvin lost his criminal trial is not, in and of itself, particularly surprising. Generally speaking, being captured on high-resolution video as the aggressor in a situation where another person dies is not a great start for a defendant in a murder trial. And, contrary to the arguments of some pro-Chauvin voices on the right, there was a fair amount of additional evidence against the Minneapolis cop. Notably, the Hennepin County medical examiner's report listed 'homicide', during a process of 'law-enforcement subdual… and neck compression' as at least the principal cause of George Floyd's death. This fits the charges reasonably well. A second degree or 'felony murder' charge arises when a death occurs during the course of any serious crime, and there seems no logical reason that aggravated assault or battery by a law-enforcement officer could not constitute such a crime: manslaughter requires merely a finding of culpable negligence. Few will weep for the sentenced Chauvin.
But let us be real for a second. I cannot be alone in suspecting that the jury in this case would have been at least tempted to render a guilty verdict almost no matter the strength of the evidence. Honesty compels us to admit there was evidence presented during the trial that would logically cast at least some doubt – whether or not 'reasonable' – on the claim that Chauvin's knee was a direct primary or significant cause of Mr Floyd's death. As has been noted extensively by conservative media sources, Floyd had roughly three times the minimum potentially fatal dose of fentanyl in his bloodstream when he died. He also tested positive for methamphetamines – his DNA was found on a potent combination known as a 'speedball' – and had both Covid-19 and heart disease at the time of his death. The medical examiner at one point stated in writing, albeit in his personal notes, that Floyd's death could have been called a drug overdose had he been 'found dead at home alone'.
Even the original narrative of Chauvin brutalising and subduing Floyd without any provocation was challenged by the evidence: Floyd was experiencing what appeared to be an excited delirium throughout his arrest, and transcripts reveal that he asked to be placed on the ground. None of this moved the jury, which returned a verdict of guilty on all counts – including taking the unusual step of finding the defendant guilty of both second- and third-degree murder, crimes which seem to require different levels of intent under Minnesota law.
It would require an extraordinary amount of political naiveté to imagine that the national political climate had nothing at all to do with the jury's decisions. Just as the jury began their deliberations, the president himself let it be known that he was 'praying' for the 'right verdict'. A powerful sitting congresswoman, Maxine Waters, came to suburban Minneapolis just before this, and told protesters they would have to 'get more confrontational', 'stay in the streets' and 'fight' on the off-chance that Chauvin was not convicted. At one point, Waters explicitly declared that even a conviction only on the manslaughter charge would not be sufficient for her purposes.
Congresswoman Waters' comments were so remarkable that the presiding judge in the case warned that they would provide a probable basis for Chauvin to appeal his conviction. Waters spoke before the jury was sequestered – if any of them were browsing the news or social media, they would have likely been made aware of her comments.
Far more ominous than the public proclamations of politicians was the looming threat of massive riots, which every single resident of Minneapolis must have been aware of. The death of George Floyd was followed by violent street battles and the burning of a Minneapolis police precinct. Most Americans were expecting a more violent sequel in the event of Chauvin's acquittal.
By any logical standard, the Chauvin verdict is good news for those tempted to believe Black Lives Matter's claim that the US is witnessing a near-genocidal wave of unpunished attacks on black folks by white cops and vigilantes. In reality, the killer of George Floyd – despite in fact having some potential points of defence – was convicted on every count after a mere eight to 10 hours of deliberation. Chauvin is likely to receive a sentence of at least 15 years on the top count, and may get more than that. The Minnesota attorney general has just requested enhanced sentencing for him based on 'five aggravating factors' such as 'particular cruelty'. For a variety of reasons, it is not unlikely that Derek Chauvin will die in prison. Nor is Chauvin the first killer to be charged in a case highlighted by the BLM movement – the killer of Botham Jean was found guilty of murder, and the killers of Ahmaud Arbery have been indicted with murder, pending trial. But will any of this change anyone's mind or make any difference to the prevalent narrative?
The unfortunate answer is probably not. These narratives, constructed by the media and activists, have never had much to do with reality. In the hours immediately following the Chauvin verdict, prominent Democrats, such as Alexandria Ocasio-Cortez (D-Instagram), refused to call it 'justice', arguing that justice 'would be George Floyd going home to his family' and that no legal verdict can ever 'substitute for policy change'. AOC's 'Squad' colleague, Ilhan Omar, provided a detailed list of what her demands for policy change look like, including: 'end traffic stops for minor… violations', 'demilitarise police departments', 'disband and deconstruct failed departments', and 'legalise recreational cannabis nationwide'. True justice, it seems, sounds pretty close to 'just us' – citizens interacting in a largely unregulated society patrolled by few if any police.
The mainstream media took a similar tack. A search for 'police shootings since Chauvin conviction' pulls up 9,660,000 results, led by a bevy of near-identical headlines: 'Six police killings occurred in the 24 hours after verdict' (Axios), 'Verdict in Chauvin trial, then six police killings in 24 hours' (Chicago Tribune), 'Six people were killed by police in the 24 hours after Derek Chauvin was found guilty of murder' (Business Insider), and 'One verdict, then six police killings across America in 24 hours' (US News).
The Axios piece is a fairly typical example of the genre, outlining in detail the deaths of Ma'khia Bryant ('a 16-year-old black girl'), 'two men' in San Antonio, Texas, potential bomber Phet Gouvonvong in Massachusetts, Andrew Brown of North Carolina, and 'a white man in Escondido, California'. While the victims in most of these cases do not seem very sympathetic – the death of any minor is a tragedy, but Ma'Khia Bryant was attempting to stab a black woman with a butcher's knife at the time of her shooting – several have already become major national causes célèbre.
As the news cycle begins once more, it is worth noting the actual figures around police violence in the US. During the most recent year on record, 2020, 1,021 people were shot and killed by American law-enforcement officers. Only 243 of those – almost exactly one quarter – were identified as black, while roughly 45 per cent were white and another 170 (16 to 17 per cent) were Latino. Although the black percentage of police-shooting victims is somewhat disproportionate, given that black people make up only 13 per cent of Americans, a basic adjustment for the black rate of victim-reported crime (2.4 times the white rate in 2018), or for the police-encounter rate, totally closes this gap. The 2020 totals, despite the Covid-19 pandemic and a spike in crime, were nearly identical to those for every other year on record. In 2015, the first full year the database was in existence, there were 993 total fatal shootings and 258 incidents with a black victim. The total number of unarmed black persons killed by police was under 40 in 2015, and five years later it was 18.
The US is not currently experiencing anything remotely close to a race war or a police-driven 'genocide'. A unified reaction to the Chauvin verdict – which was, if anything, more punitive than expected – would have been a fine way to celebrate that fact. Alas, this particular path in the frosty wood was not taken, and the debate about policing seems likely to continue at a higher pitch. Hopefully, facts and logic will eventually carry the day. Most importantly, let's hope we avoid 'solutions' like removing police from urban areas, which would cost many black lives indeed – arguably the worst way possible to show that they 'matter'.
To enquire about republishing spiked's content, a right to reply or to request a correction, please contact the managing editor, Viv Regan.