Marcus Rashford and the hysteria about racism
The graffiti on the Rashford mural wasn't racist. Why did so many people say it was?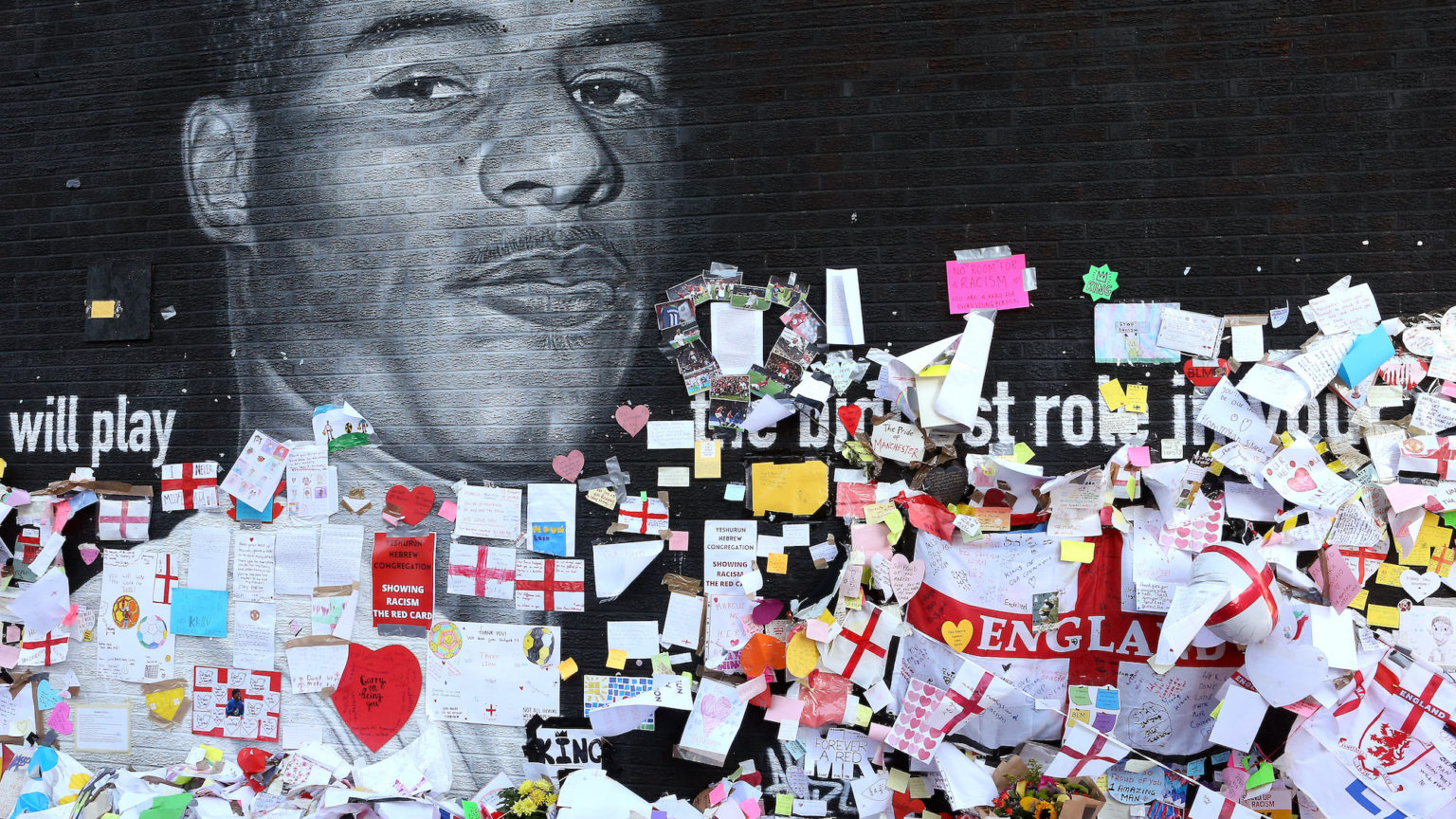 So, that graffiti sprayed over the mural of Marcus Rashford in Manchester wasn't racist after all? That's what Greater Manchester Police are now saying. They are keeping an 'open mind' as to the motive of the muppet who daubed the mural with insults after Rashford missed his penalty in England's Euros final clash with Italy. But they're now saying the graffiti is 'not believed to be of a racial nature'. This is a serious development. It is another indicator, perhaps the most important one yet, that the past week of fury and handwringing over what a racist cesspit England has become was motivated more by hysteria than facts.
Manchester police are really only saying something that many of us suspected to be the case – that while the graffiti may have been rude and juvenile, it wasn't racist. There was very little evidence that it was motivated by racial hatred. Most of the media blurred out the actual graffiti, leaving readers and viewers to imagine that it said something obscene about this young black man who has become a national treasure over the past year. But the few uncensored images of the graffiti that were floating around social media revealed a very different reality. The graffiti seemed to say 'Fuck Saka, Fuck Sancho' – in relation to the two other penalty-fluffers – and 'Shite in a bucket, bastard' with a badly drawn cock and balls pointing to Rashford's mouth. Infantile? Undoubtedly. Racist? No.
The graffiti was more in keeping with the kind of intemperate chatter and banter frequently heard in relation to football than it was with racial hatred. Fuck, bastard, shite – these words might offend the sensibilities of the middle-class Johnny Come Latelys to the beautiful game but they are not uncommon from the mouths of impassioned fans angry when their team loses. It was a criminal act, for sure – no one has the right to deface public property. But if it were a racist act too, then surely the graffitist would have used racist terminology? Those claiming that it is by definition racist, because it was targeted at a black man, are playing a dangerous game indeed. Do we really want to say that all criticism of black people is racist? That would infantilise our ethnic-minority citizens, forcefielding them from the rough and tumble of daily life, which is the opposite of equality, and arguably a tad racist.
One could argue that this graffiti incident suggests it was a bit of a folly to put a mural of a Manchester United player, even one as widely adored as Marcus Rashford, in a working-class area of Manchester. No, not because working-class Mancunians are racist – they are not – but because many of them are fans of Manchester City. A great many people respect Rashford for his activism and his decency. But football is its own universe. Having successfully campaigned for free school meals won't mean much if you can't score a penalty. You can be a good bloke but still a bloody United player in the eyes of City fans (and others). This isn't hatred. It certainly isn't racism. It's football. If you don't like it, there are many other sports you can follow instead.
But the far larger story here is how swiftly and uncritically the graffiti incident was folded into the narrative about England being a horrible racist hellhole. For the past week, blurred images of the daubed Rashford mural, and then images of it covered in messages of love and support from the people of Manchester, have dominated media discussion in the UK. The defaced mural became Exhibit A in the case against racist Britain.
Media outlets openly said it was a racist attack. There wasn't a quote mark in sight around that word racist. The mural was 'vandalised by racists', said the Manchester Evening News. It was 'defaced with racist abuse', said Sky News, which has yet to explain how the phrase 'shite in a bucket' – an insult of Irish origin – is racist. Even the New York Times, continuing its depiction of Brexit Britain as an angry racist nutter loitering on the edge of lovely Europe, ran the headline: 'A Manchester mural was defaced by racist graffiti. Soccer fans rushed to fix it.' Hard to know what is most offensive about that headline – the R-word or the S-word.
The Twitterati denounced the foul racists who would dare to disrespect Marcus Rashford. And huge numbers of activists – including, inevitably, the Socialist Workers Party – gathered at the mural to take the knee and chant 'Black Lives Matter'. Many of these people were entirely well-meaning, of course. They love Rashford and loathe racism. But what, exactly, were they protesting against here? The word 'shite'? The drawing of a dick? Where was the racism? Where was the suggestion that black lives don't matter? They were, in essence, protesting against something that didn't actually happen. This requires some analysis.
What this all suggests is that the discussion about racism today is becoming more and more unhinged, more and more disconnected from reality. There is no evidence that the anti-Rashford graffiti was racist, and yet anti-racists protest against it. Surveys and polls continually show that Britain has become less racist in recent decades, and yet the cultural elites have convinced themselves that racism lurks everywhere. Or consider the scandal of racist messages being sent to Rashford, Saka and Sancho on social media. This was blown entirely out of proportion. The messages were tiny in number and many of them came from overseas. And yet they, too, were held up as proof of the unstoppable march of racism across England. Once again, the claims and the activism are untethered from reality.
Racism has become a moral panic. That is what this week confirms. No, this is not to say that racism does not exist at all. Of course it does. The horrendous messages written about black England players show that it does. There will likely always be awful people who look down their noses at entire racial groups. But today's feverish obsession with racism, the elites' conviction that it is widespread and that it requires their constant denunciations and interventions, is a moral panic. It is motored more by middle-class fear and loathing of the allegedly prejudiced populace than it is by a cool, serious analysis of the shrinking extent of racism in 21st-century Britain and how social attitudes have radically changed in this country.
The danger is that this moral panic about racism will start to play the role racism once played – dividing communities from each other, making us fearful of 'the other', and empowering the elites to manage relations between the quarrelling races. If you once stood against racism, now you should stand against the moral panic about racism. Because these two things have a scarily similar energy.
Brendan O'Neill is editor of spiked and host of the spiked podcast, The Brendan O'Neill Show. Subscribe to the podcast here. And find Brendan on Instagram: @burntoakboy
To enquire about republishing spiked's content, a right to reply or to request a correction, please contact the managing editor, Viv Regan.