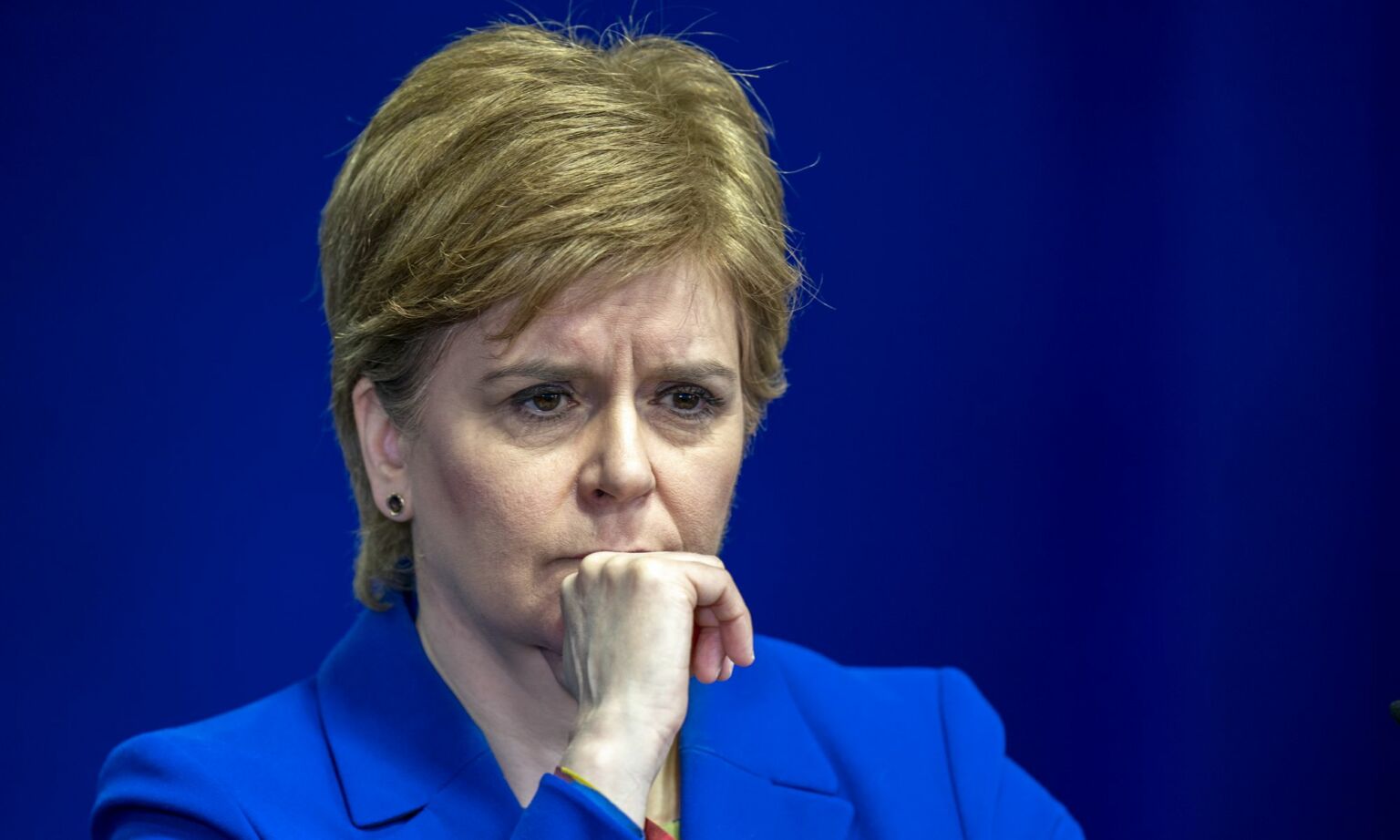 Long-read
Nicola Sturgeon: a cautionary tale
How the siren song of wokeness brought down Scotland's premier.
The oddest thing about the resignation of Scottish first minister Nicola Sturgeon, following the collapse of her transgender policy, is that she is not someone you would ever have described as 'woke'. She was, is, a well-spoken, feet-on-the-ground, working-class woman from the provincial town of Irvine, North Ayrshire. She is no pompous postmodernist intellectual drunk on critical theory, still less a Byres Road (Glasgow) hipster following the latest gender fashions.
I've known her for over 20 years, since she was a gifted and spikey backbencher. She modelled herself on, if anyone, the then SNP leader, Alex Salmond, who elevated her to deputy leader in 2004. Sturgeon was a social democrat, obviously a nationalist and certainly a feminist – but not the type to lecture you about the heteronormative capitalist patriarchy. Her audience was down-to-earth folk who would have laughed if she had started talking about women having penises. Yet she ended up promoting a policy of allowing trans people to change their legal sex by self-declaration alone – a policy that, when rolled out in the prison's service, led to a double rapist being placed in a women's prison.
How could this happen? You almost begin to believe in Elon Musk's 'woke mind virus'. How could a lifelong feminist promote a policy that was not only based on the absurdity of 'women' having male genitals, but that also endangered the safety of female prisoners – many of them only inside for trivial offences like non-payment of fines.
Did she suddenly wake up last week, realise what she had done and run from it in panic? It's as good an explanation as any for her precipitate departure. She is only 52, at the height of her powers, and unchallenged in her party – which in her eight years as leader has come to dominate politics at every level in Scotland. Her polling figures had taken a knock recently, but she was still immeasurably more popular than UK prime minister Rishi Sunak.
However, you could feel her pain in those excruciating TV interviews, where she was asked whether the rapist, Isla Bryson (real name Adam Graham), was a man or a woman. The first minister of Scotland couldn't answer. She tried to refer to him as 'this individual', even as pictures appeared in the front pages showing that Bryson's 'todger', as popular sports writer Jim Spence put it on BBC Scotland's Debate Night earlier this month, was fully apparent under his pink tracksuit. Yet Sturgeon referred to Bryson as 'she' in the very press conference when she explained why she was sending him to a male jail. What did all those sensible working-class voters in Irvine make of this flight from reason?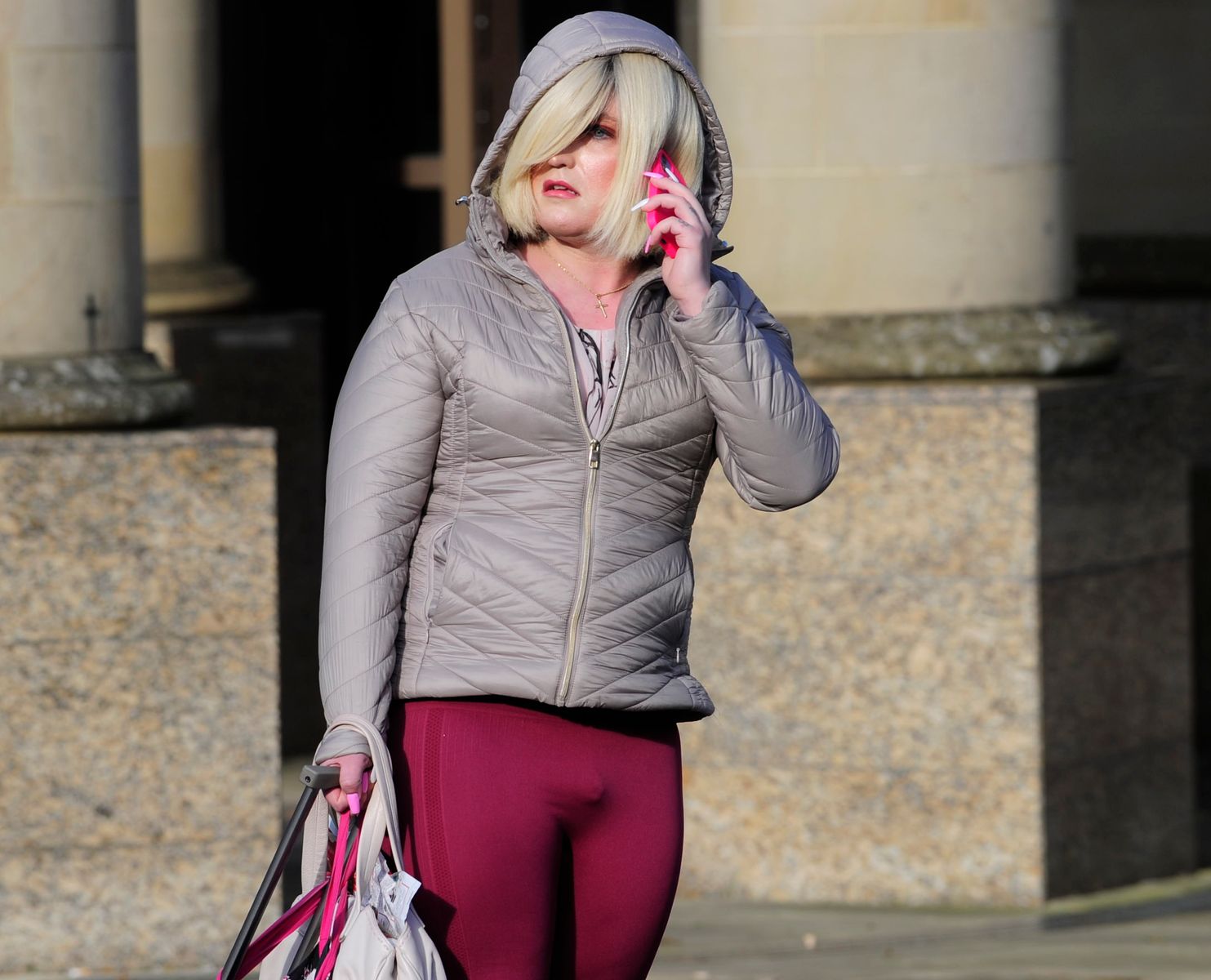 Adam Graham (Isla Bryson) holding his phone and bags.
There were of course many other reasons for Nicola Sturgeon's departure from office, not least her failure to shift the dial on Scottish independence, but self-ID was a very large part of it. The popular press in Scotland had started running increasingly lurid tales of sex offenders being placed in the women's estate – not just double rapist Bryson. A 6ft 5in male-bodied paedophile, Katie Dolatowski, had also been housed in Cornton Vale women's prison. Another self-declared transwoman, Sophie Eastwood (formerly Daniel), who strangled his cell mate with his shoelaces, is currently being held at HMP Cornton Vale, too. Eastwood currently self-identifies as a baby and is given nappies and baby food by prison officers.
The Scottish Prison Service had been piloting self-ID for years prior to Sturgeon's plan to extend it Scotland-wide. Most of the Scottish media have, like the BBC, been observing informal self-censorship on the trans issue. There was little comment on these cases, which were well known to Scottish feminists. It was and still is seen as rather indecent in the middle-class media to mention prisons and the risks of allowing men to become legally female just by putting on a dress and calling themselves a woman. Last September, Nicola Sturgeon insisted such concerns were 'not valid'.
Among the gushing tributes following her abrupt departure last week, many tried to downplay the role of her gender policies. Yet, in her final few months, self-ID became the defining policy of her administration. She used up much of her political capital forcing the Gender Recognition Reform (Scotland) Bill through the Scottish parliament before Christmas, after facing down the biggest parliamentary rebellion the SNP has experienced since it entered government 15 years ago. The legislation, which would allow children as young as 16 to change their legal sex, on demand, without any medical intervention, is hugely unpopular in Scotland and opposed by a margin of more than two to one.
Some of Nicola Sturgeon's fans on social media have claimed that she didn't know about what was happening in Scotland's prisons. But she could scarcely have failed to notice that her favourite government-funded charity, the Scottish Trans Alliance, had been advising the Scottish Prison Service on self-ID since 2014. If she didn't know, it would be astonishing negligence, and Nicola Sturgeon is famous for being meticulously well-briefed. She is no fly-by-night blusterer like Boris Johnson. No, the first minister accepted self-ID in prisons because of her adherence to the Stonewall dogma that 'transwomen are women'. No buts, no qualifications. As her Green Party coalition partners put it, denying that transwomen are women is the 'definition of transphobia'. So when the Scottish Prison Service was instructed to follow this dogma it started to house offenders according to the 'social identity' they presented.
Historians will likely regard Nicola Sturgeon's alliance with the Scottish Green Party as a fatal mistake for the nationalist cause. Patrick Harvie, the Green co-leader, insisted on gender reform being part of the coalition agreement back in 2021. It is and remains the Greens' 'red line'. This means that the coalition will collapse if the early frontrunner in the race to replace Sturgeon as SNP leader, evangelical Christian and finance secretary Kate Forbes, goes the distance.
Many in the SNP would be pretty relaxed if the coalition collapsed. The Greens are opposed to economic growth in principle and want to close down the oil and gas industry in the North Sea. Theirs is not a worldview shared by most members of the Scottish National Party. The whole point of independence is supposed to be to liberate the Scottish economy from the 'dead hand' of Westminster rule.
Cynics might say that the SNP has been rather successful in promoting the anti-growth agenda, since the Scottish economy has been underperforming the rest of the UK. But this is by accident rather than ideological design. The SNP leadership wants more growth not less to meet Scotland's enduring social problems, like poverty and homelessness, and to shore up the collapsing NHS.
As for oil and gas, many nationalists, including at least two of the current leadership contenders, believe it is senseless to try to halt oil and gas production in the middle of an energy crisis when many Scots can't heat their homes. The UK used to be self-sufficient in gas, as recently as 2003. Now it has to import gas from abroad at great cost to the environment and household energy bills. Anyway, the SNP's economic prospectus had always regarded oil revenues as essential to balancing the books in an independent Scotland.
Nicola Sturgeon never sounded entirely convincing when, under pressure from the Greens, she opposed the development of new oil and gas fields like Cambo and Rosebank. She seemed to be going through the motions. The first minister knew anyway that the decisions on production licensing had effectively been made by the UK government. Similarly, she could curry favour with environmentalists by opposing nuclear power in Scotland because any decisions on building new reactors would be taken by the UK prime minister.
But her apparent willingness to collapse an oil and gas industry that supports more than 100,000 well-paid jobs was regarded as reckless by many nationalists, not least in the north-east of Scotland. Keeping the faith on fossil fuels, and delaying Net Zero, is one of the top lines of leadership contender Ash Regan's campaign, along with scrapping the Gender Recognition Reform Bill. Kate Forbes also thinks the North Sea will remain a valuable part of the Scottish economy during a transition to renewables. She is very much pro-growth.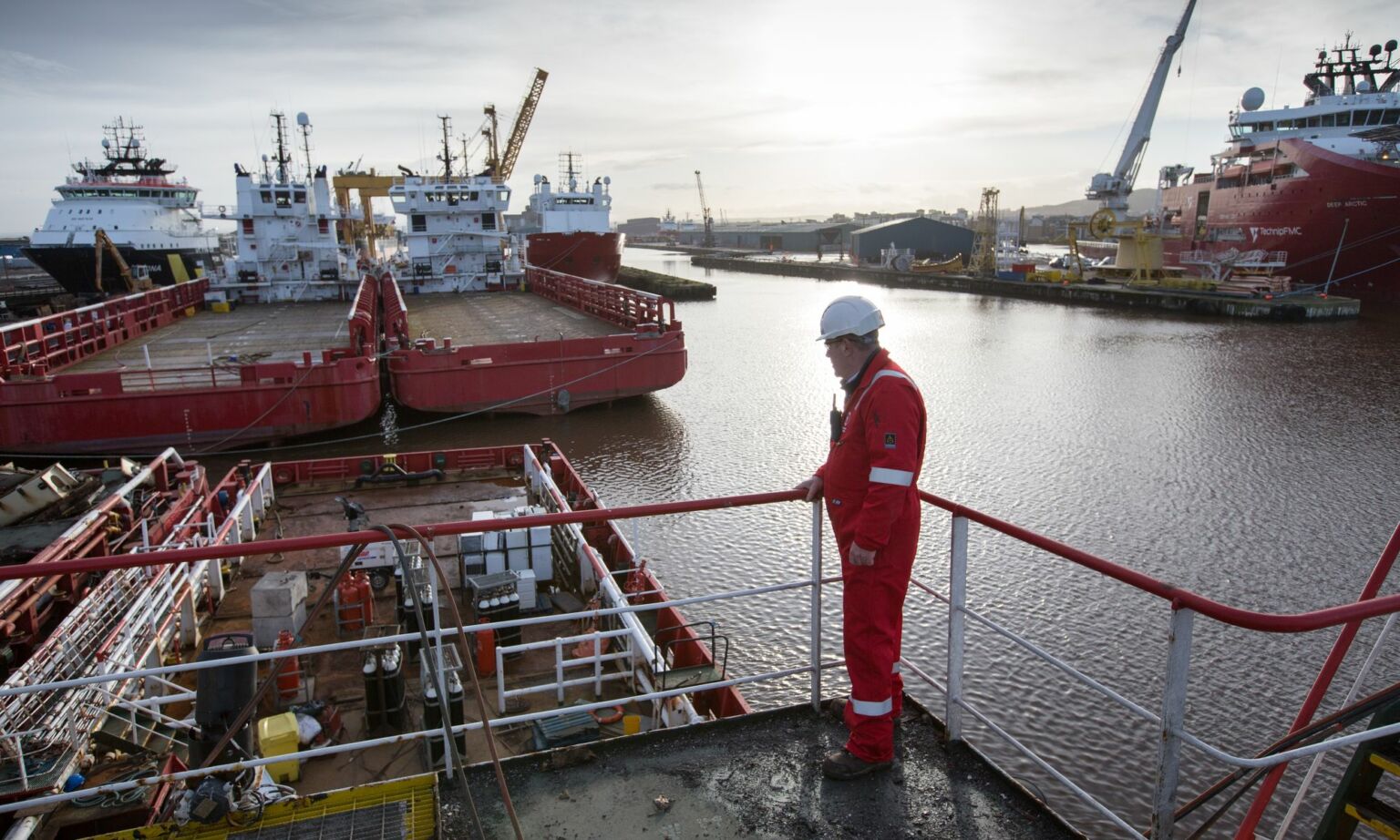 A workman looks out over a decommissioned ship on 25 January, 2018 in Leith, Scotland, as the Scottish Government announced a fund to deliver the decommissioning of North Sea oil and gas infrastructure.
Forbes has also said that she will not challenge the UK government's decision to halt the gender-reform legislation under Section 35 of the Scotland Act. She accepts that Nicola Sturgeon's flagship bill is a dead duck. Indeed, in her first TV interview this week she announced, without hesitation, that the trans rapist, Isla Bryson, 'is a man'. Ash Regan, who resigned from the Scottish government last year in protest against the GRR bill, agrees – along with most Scots.
The third candidate in the running, health secretary Humza Yousaf, has so far ducked the Isla Bryson question. He has said, however, that he supports the GRR Bill as it stands and will fight the 'undemocratic' actions of the UK government all the way to the Supreme Court.
He will surely fail should he get the chance. Self-ID conflicts with the UK-wide Equality Act's protections for single-sex spaces, at least according to the UK government's lawyers. That the UK Supreme Court would rule in the Scottish government's favour, given the recent prison scandals, seems remote. Nevertheless, a vocal constituency of nationalists clearly wants to continue pursuing this hopeless cause, even if it means turning to what nationalists usually refer to as the 'English' courts.
In the febrile atmosphere of the post-Sturgeon SNP, the legions on Twitter have taken to attacking Forbes as a 'far-right bigot' for her stance on gender issues. 'Progressive' nationalists have also leapt on her admission that she would have voted against same-sex marriage in 2014, had she been an MSP.
A number of her erstwhile supporters, including just-transition minister Richard Lochhead, have said that Forbes' views make her unsuitable for office. It's not clear how many of the 100,000 SNP members who will decide the leadership result agree. Ms Forbes has said she will defend the right to gay marriage. She also points out that former German chancellor Angela Merkel similarly did not vote for it, but accepted the legislation in government.
Such is the state of politics in the age of identity that being a Christian, and supporting what used to be mainstream Christian beliefs, is now regarded as a barrier to office. Opposing the GRR Bill is now conflated with opposition to same-sex marriage. Yet Forbes' main rival, Humza Yousaf, is a practising Muslim. The Koran and other Islamic texts regard homosexuality as a deadly sin. Yousaf avoided voting on 'equal marriage' in 2014, though he voted for the bill in principle on its first reading. He now hopes that Forbes' 'gaffe', as his supporters see it, will deliver him the leadership, even though most people in the party think his performance in running the Scottish NHS has been poor.
Certainly the Scottish Labour Party is hoping that Yousaf wins. Nicola Sturgeon had reduced Labour to a pale shadow of the party that used to dominate Scotland. In many ways, that was her supreme achievement since she came to office in 2014. In the 2015 General Election, Labour lost 40 of its 41 MPs. Sturgeon's SNP won 56 out of 59 Scottish seats. It is still the third largest party in the UK with 45 MPs. The SNP also dominates the Scottish parliament with more MSPs than all the Unionist parties combined. It even controls the presidency of the Confederation of Scottish Local Authorities since its success in last year's council elections.
Sturgeon was a brilliant communicator. Labour and the Tories, who are even less popular, had a long way to go before taking down the first female first minister. It never occurred to them that she would take herself down. It has puzzled many commentators. Why did she go now, of all times, amid this lurid trans-rapist scandal? She cited personal reasons and the pressure of the job. 'I'm a human being', she declared in her resignation statement last week. She had also lost the party's confidence over her plan to turn the next General Election into a de facto referendum on independence.
But most importantly, Nicola Sturgeon has left the SNP fatally divided over gender policy. It may seem strange indeed that the party of independence is tearing itself apart over transwomen and gay marriage, but such is the legacy of the nationalist who took woke too far, too fast.
Iain Macwhirter is a political commentator and author of Disunited Kingdom: How Westminster Won A Referendum But Lost Scotland. Visit his Substack here.
Pictures by: Getty and YouTube.
To enquire about republishing spiked's content, a right to reply or to request a correction, please contact the managing editor, Viv Regan.