Stop making excuses for Andrew Tate
Why is it so hard for the right to admit that Tate is a scumbag?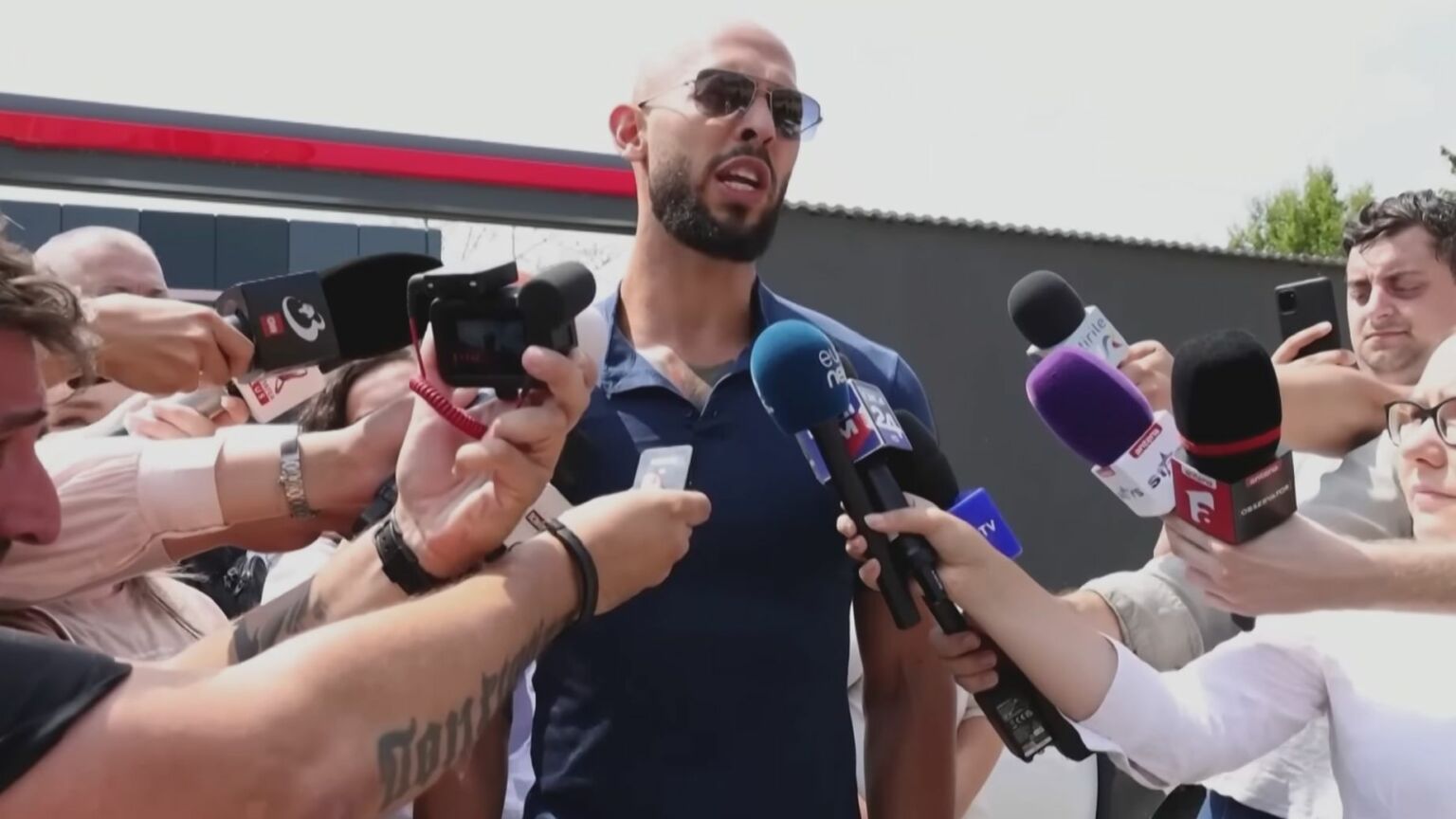 Why is it so hard for the right to admit that Andrew Tate is a piece of shit? This is a man who speaks about women as if they are animals. 'You can't be responsible for a dog if it doesn't obey you… or a woman that doesn't obey you', the lowlife says. This is a bloke who boasts about pimping women for webcam wankers. He claims he has a PhD in such online sexual exploitation, with PhD standing for 'Pimpin' Hoes Degree'. My splitting sides. This is someone who says he prefers petite women, because 'I will pick you up with one hand, by your titty'. Get this: this is a man who says that 'probably 40 per cent of the reason' he moved to Romania is because it's easier to evade rape charges there. 'I'm not a fucking rapist [though]', he says.
And what does the right, especially the Very Online right, say about this misogynistic braggart, this foul-mouthed woman-hater who says he would rather 'fuck' a good-looking 'transwomen' than an old, ugly broad (gay much)? They say, 'Well, at least he's pushing back against the woke assault on masculinity'. They say, 'Okay, but at least he provides young boys with a sense of drive and ambition'. They make excuses for him. These people pose as implacable opponents of the moral relativism, identitarian insanity and sexual licence of the woke left, and yet then they tweet sympathetically about a man who says of his 'harem' of women: 'I got these bitches just so everyone knows who the don is.'
Tate, a reality-TV reject turned wildly popular star of the manosphere, is back in the news after being released from house arrest in Romania, where he and his brother, Tristan, face charges of rape and human trafficking. Nice guys. Despite this, certain right-wingers have been gushing over him. Clicks-chasing weirdo Candace Owens did a three-hour interview with Tate called 'How to Escape the Matrix'. 'The Matrix' is Tate's conspiracy theory about how the world is controlled and manipulated by shadowy forces – where elections are rigged, pandemics are faked and 'agents of the Matrix' are conspiring to bring him down. Yes, he's a crank as well as a sexist. Ms Owens once raged against Cardi B's saucy hit 'WAP', branding it a 'grotesque' assault on 'American values', yet here she was chewing the cud with a man who laughs about making money from women 'with their titties out' on webcams.
Even Tucker Carlson, who should know better, had a friendly chat with Tate. A highlight of that was when Tate compared himself to the men who perished on the Titanic. 'Same as the men on the Titanic couldn't get on the lifeboat, I just can't stop saying what I believe to be true', he said. Makes no sense, mate. I preferred it when Carlson was slamming USA Today for giving a Woman of the Year Award to Rachel Levine – when he warned that the trans ideology threatens to eliminate 'an entire category of humanity: women' – to when he was having this warm prattle with someone who says: 'I think the women belong to the man.' Mr Levine thinks he can own womanhood, Mr Tate thinks he can own women. Show me the difference, Tucker.
Elsewhere we hear the argument that the Tate phenomenon is not good, but it's understandable. That Tate gets billions of hits online and is fawned over by teenage boys should not surprise us, some writers say, because we live in a 'woman's world' now where boys feel 'lost'. The 'male malaise is real', we're told, and Tate's appeal is a 'leading indicator of some of the genuine disorientation being felt by millions of boys and men'. This kind of commentary can cross the line into excuse-making, too. In focussing more on the social conditions in which Tate thrives, rather than on the choices Tate himself makes, it almost absolves him of responsibility for his deeply immoral behaviour. He comes to be viewed as just a natural outgrowth, if a fungus-like one, of our bad woke society.
The online right's unwillingness to condemn Tate is revealing. Partly it's down to desperation. They can't believe there is a popular cultural figure who doesn't hate them. 'Someone who has the ear of millions of boys and who doesn't view us as white-supremacist lunatics? Let's connect!' Tribalism is at play here, too. The woke hate Tate, so the unwoke must cosy up to him – that's how things work, right?
More broadly, though, the Tate sympathy on certain sections of the right speaks to the evacuation of moral principle from contemporary political discourse. It's actually unconscionable to get chummy with a man who allegedly sexually exploits women for financial gain. There was a time when upstanding communities viewed pimps as the lowest of the low. Men, in particular, were full of contempt for these parasites who preyed on the economic anguish of women. 'I might as well try to knock that wall down as think I can bash some humanity into such a drunken pimp', says a character in one of the great Alan Sillitoe's novels.
As to the idea that it is today's undoubted hostility towards masculinity that paved the way for a musclebound 'man's man' like Tate – that argument feels too trite to me. It's as if people are throwing their hands in the air and saying: 'Well, if the Guardian didn't publish so many diatribes against toxic masculinity, we wouldn't be in this position where people like Tate can make waves.' Overemphasising the power of woke culture – in this case of the man-bashing that is rife in bourgeois circles – can end up acquitting men in particular of the responsibility to do something about it. If you see your son or nephew or little brother engaging with Tate, your response should not be to say: 'Oh yes, that makes sense in our era of anti-masculinity'; it should be to reprimand and discipline them for spending time in the virtual company of a man who has exhibited such extreme contempt for womankind. We can't wait for the culture to come to its senses – we all must take action in the here and now to counter the poisonous influence of the misogynistic false gods of oppositional ideologies.
No, we don't have to buy into an all-out moral panic about Tate. He's not Satan, just a scumbag. Also, we shouldn't take lectures from the woke left about Tate's evil. The people who think men should have the right to get their penises out in women's changing rooms, and who shrugged their shoulders when Kellie-Jay Keen was set upon by a heaving mob of feral misogynists in New Zealand, and who call women 'cervix-havers' and vaginas 'bonus holes', want to pontificate about the sexism of Tate and his 'PhD' bros? Yeah, no thanks.
Indeed, I am most struck by the similarities between the Tate worldview and the woke worldview. Tate's conspiracy theory about a 'Matrix' echoes the more fashionable leftish belief that institutionalised 'white supremacy' is the true and terrible governor of world affairs. Tate is pro-'sex work' – so are today's moral relativists who masquerade as Marxists. Tate's emphasis on body-building and ice baths and all that feels like a more blokeish version of the narcissistic 'radical self-care' beloved of the queer left. As for Tate's belief that a woman must know her place – you'll find similar rank sexism among the woke who will bark at and blacklist and threaten any TERF (their word for 'bitch') who dares to think for herself and question their man-worshipping ideology of transgenderism.
Tateism and wokeism are two cheeks of the same arse. The clash between these camps is a classic case of the narcissism of small differences. It's a battle whose shrillness and noisiness disguises the fact that both sides are made up of narcissists who are fine with porn and prostitution and who believe men should have ownership of women – whether of their identities (the woke mob) or their bodies (the Tate mob). We who prefer reason to conspiracy theory, sexual equality to misogyny and decency to ugliness need to speak up.
Picture by: YouTube / GB News.
To enquire about republishing spiked's content, a right to reply or to request a correction, please contact the managing editor, Viv Regan.